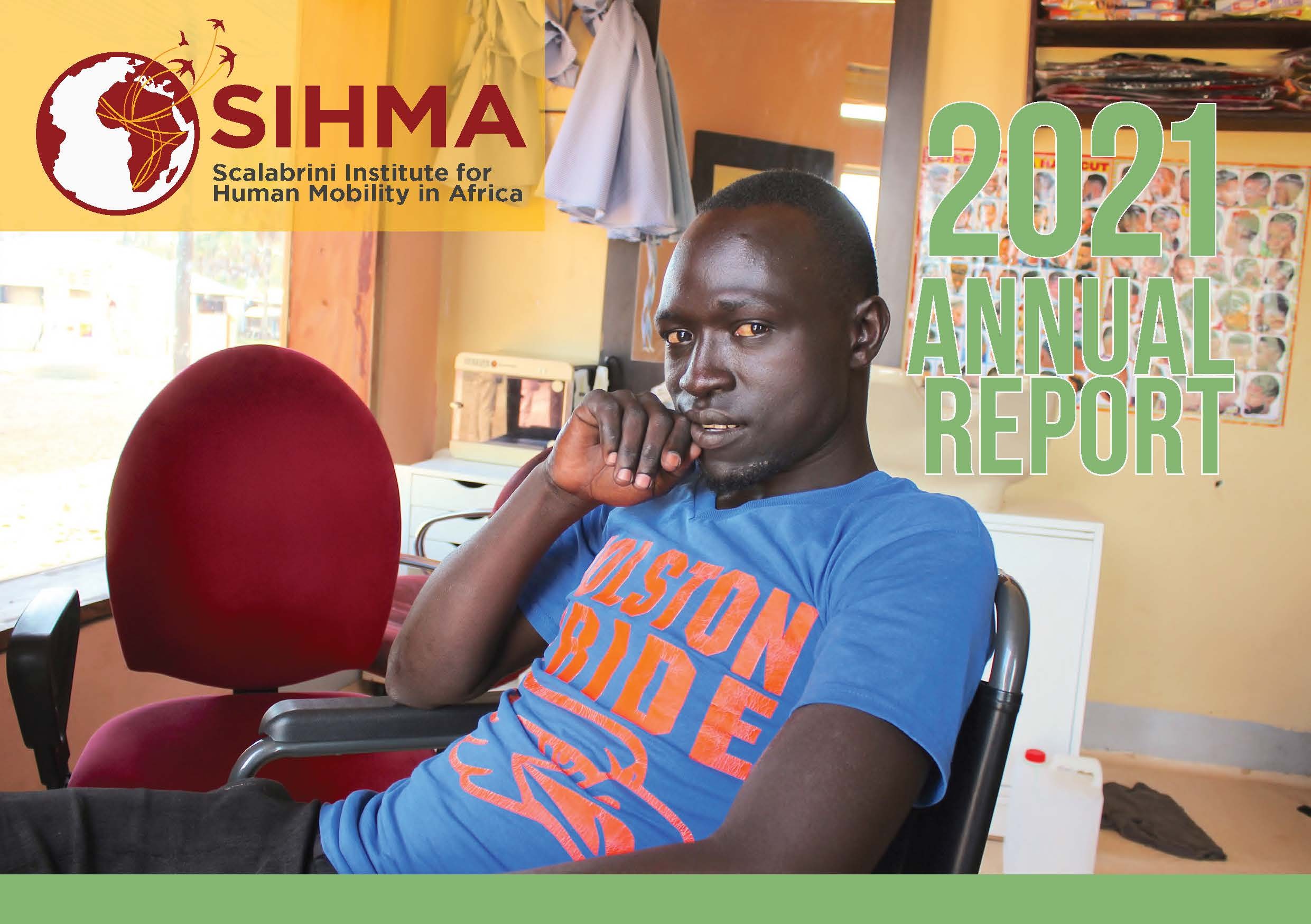 SIHMA Annual Report 2021
SIHMA's annual report for 2021 has now been released with information about the organisation and its activities from 2020 to 2021. The report covers SIHMA's four key focus areas, namely Research; Publications; Training and Capacity Building; and Events, as well as more general information about the organisation and its work. You can find a link to an online version of the report at the bottom of this page.
"By presenting this Annual Report of 2021 of the Scalabrini Institute for Human Mobility in Africa, we deliver our own work and mission into the hands of those who read it. In these pages you will find numbers, ideas and concepts but also and above all, people with their intricate stories, families that separate and reunite, nations made of cultures and history that make the various graphs and articles alive and real, that give flesh and blood to an apparently dry and impersonal work. There is a whole continent that finds in human mobility one of its main drivers, a formidable vehicle of exchange but also a source of danger and vulnerability, sometimes an opportunity for growth and fulfilment, other times a trap of disenchantment and pain. In portraying this movement, in trying to fix it on paper or virtual pages, we carry out our task as researchers, storytellers, enthusiasts of pilgrim humanity. The challenge is to recount it with scientific objectivity and rigorous method, without losing that passion for man and his dignity, for justice and the rights of the invisible or unheard, which distinguishes the Scalabrinian organisations in the world. And here in Africa in particular, this work sometimes clashes with the fatigue of collecting and sharing data, of drawing up exhaustive frameworks, of chasing a reality that is always on the move, like migrants themselves. But it also has the flavour of a young and dynamic land, enthusiastic and stubborn in launching itself into new challenges, struggling but determined in facing its structural weaknesses. This Africa on the move, this vast array of men, women, and minors travelling through it in search of a destination or a goal to be achieved, fills the pages of this Report that bears witness to the vastness and complexity of the work and research of our institute and the avenues that still remain to be explored and verified. We are always drive by the desire to understand and interpret human mobility, putting ourselves at the service of those who, along the way, get left behind or injured and ask for support to get back on the road."
Message from the Director
As things have gradually returned to normal, SIHMA had the opportunity to participate in or host various webinars and meetings including:
The Years We Have Been Nowhere From Sierra Leone to Europe: Telling About Others

Scalabrini Day Event

Lecture on Refugee Law

Training of the Vatican Section for Migrnts and Refugees
Further, SIHMA had the opportunity to attend various events that focused broadly on issues connected to migration such as climate change, and the detention/return of migrants.
The annual report gives an overview of research and publications in 2021. This includes research blog posts, articles, briefing papers, and reports, as well as academic articles in our peer-reviewed on-line journal, African Human Mobility Review (AHMR).
Lastly, SIHMA had the pleasure of welcoming six interns this year from around the world to our team throughout the year. We would like to use this opportunity to thank Mary Cascarelli, April Noelle Walter, Victoria Jensen, Nicolette Pérez Verwer, Marzia Marzenta, and Ángela Hernández López for their much-appreciated contributions to our work.
Click here to read the full report:
https://sihma.org.za/reports/sihma-annual-report-2021
---
Categories:
---
Tags: