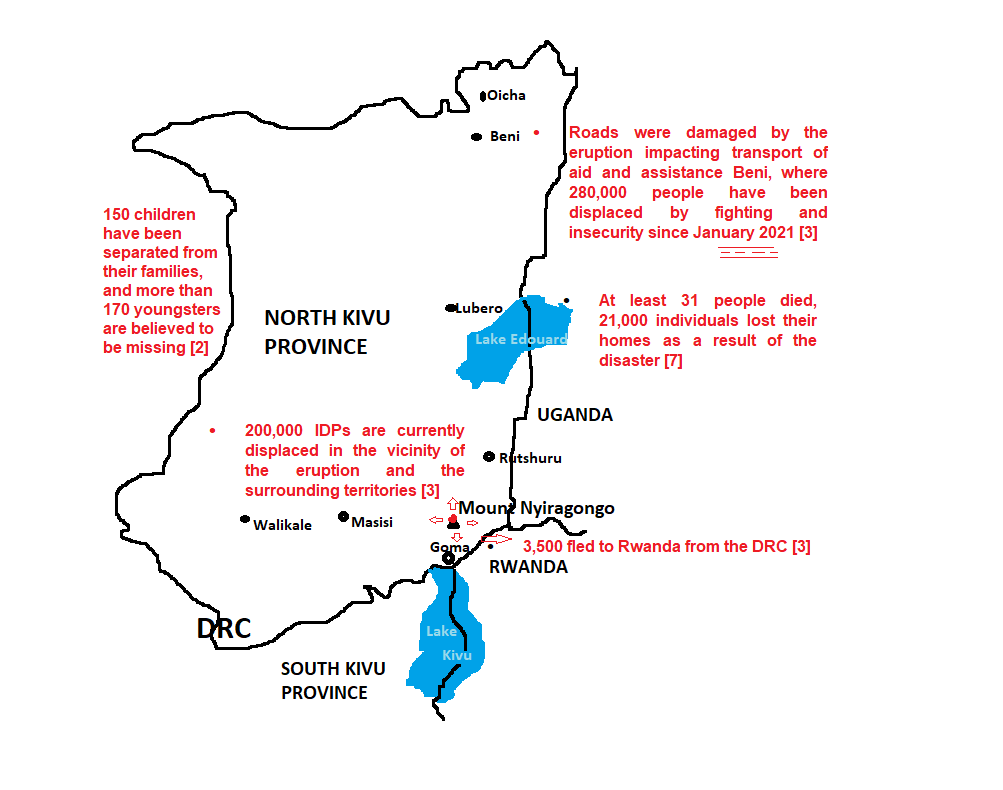 Volcano Eruption in the Democratic Republic of Congo
What happened
On Saturday May 22nd 2021, the first reports of an eruption of the Volcano Nyiragongo, located north of the city of Goma in North Kivu province, began to surface on media websites about 19.30 West African Time [2]. The eruptive nature of the eruption was rapidly verified, with reports of power outages, individuals self-evacuating, and thousands of people leaving their houses on foot, carrying mattresses and other belongings as lava surged towards Goma, destroying villages along the way. Many were welcomed by host families in Goma and the surrounding villages, while thousands more fled across the Rwandan border. According to Rwanda's Emergency Management Ministry, some 3,500 people came into Rwanda from the Democratic Republic of Congo (DRC) to seek sanctuary after the volcano erupted [3].
After Mount Nyiragongo erupted in the eastern Democratic Republic of Congo, hundreds of children are believed to be missing or separated from their homes [3]. The youngsters were lost amid confusion as residents fled the neighbouring city of Goma, according to the United Nations Children's Fund (UNICEF). According to the agency, more than 150 children have been separated from their families, and more than 170 youngsters are believed to be missing [2].
At least 21,000 individuals lost their homes as a result of the disaster [7]. According to reports, at least 31 people died [7]. Hundreds of children just fled away and were separated from their homes as the eruption began [3]. The majority of the children have been reunited, but at least 74 have been placed in foster care or transit centres, where they will also get psychosocial treatment. As earthquake activity continues, Congolese authorities ordered the evacuation of portions of Goma on May 27.
Unfortunately, this is not the first time Volcano Nyiragongo has caused damage in the province. In January 2002, more than 120,000 people were left homeless and approximately 100 people died after an eruption [1].
Humanitarian aid
Nearly two weeks after Mount Nyiragongo erupted, the humanitarian situation for those who evacuated Goma is rapidly deteriorating. More than 200,000 IDPs are currently displaced in the surrounding territories [3], according to UN data, following the partial evacuation of the city. Drinking water, food, and shelter are all in short supply. Welthungerhilfe is donating 150,000 euros to provide much-needed emergency help [4]. Lava flows and continuous tremors rattled the region for days, forcing many to flee. Food, drinking water, water purification tablets, protective tarpaulins and blankets, hygiene kits, and other daily necessities are being prepared by Welthungerhilfe and its partners for the impacted people in Goma, as well as refugees in the Sake and Minova areas [4]. Food, medicine, and other supplies are being given to 135 children who were evacuated from an orphanage in Goma [4].
Lava has also destroyed the road leading to northern portions of North Kivu province, making it difficult to carry food and goods to the area near Beni, where 280,000 people have been displaced by fighting and insecurity since January 2021 [3] and are in need of humanitarian relief. Since the COVID-19 pandemic began, alternative entry routes have been prohibited by closed borders. Beni lies about 240 kilometres north of Goma. In conjunction with other UN agencies and non-governmental organizations, and in support of the government's emergency response, UNHCR is preparing to assist individuals in need of shelter and relief supplies in the Goma area. Funding is desperately required to aid individuals who have been harmed. Only 17% of the US$204.8 million needed for UNHCR's activities in the DRC has been obtained [2].
MSF is urging other humanitarian organizations to help meet people's basic needs as soon as possible. MSF staff in the area are working to stop the spread of cholera, treat individuals who have the disease, and conduct epidemiological surveillance in the area. MSF is also supplying drinking water, with a storage capacity of 125,000 litres that can be supplied by trucks based on daily consumption [5]. MSF also installed 26 chlorine dispensers in Sake, adjacent to water supply sources, to offer even more clean water to the locals [5]. On the first day of the emergency response in Sake, teams provided medical care to individuals in MSF-supported health centres and hospitals, conducting 202 primary health care consultations. MSF conducted over 1,000 medical consultations in Sake from May 28 to May 31 [5].
The EU has allocated €2 million in emergency humanitarian funding for those affected [6]. The €2 million comes from the European Commission's Acute Large Emergency Response Tool (ALERT), which is designed to offer quick first-line funding for large-scale natural catastrophes and technology disasters that strike suddenly. Emergency water supply and rehabilitation (the latter in Goma), sanitation and hygiene measures, first aid/health services (including support to health facilities), psychosocial support, child protection, and family reunification are among the priority areas to be covered. This money comes on top of the €160,000 pledged a week after the incident to help the Congolese Red Cross Society [6].
Following the eruption of Mountain Nyiragongo in the Democratic Republic of Congo, the International Federation of Red Cross and Red Crescent Societies (IFRC) has warned that a multi-hazard emergency is imminent in the DRC [7]. Immediately following the eruption of Mount Nyiragongo, the International Federation of Red Cross and Red Crescent Societies (IFRC) released 359,213 Swiss francs from its Disaster Relief Emergency Fund (DREF) to assist the DRC Red Cross in assisting 12,500 people from local communities who were evacuated from areas near the volcano [7]. The Red Cross is requesting immediate donations to the emergency appeal in order to help more individuals receive life-saving assistance.
The International Federation of Red Cross and Red Crescent Societies (IFRC) has launched an emergency appeal for 11.6 million Swiss francs to assist 80,000 displaced people in the Democratic Republic of Congo and Rwanda and is requesting immediate assistance from donors and partners to help scale up operations [7]. According to Red Cross petitions for family reunification, at least 540 children were separated from their families following the eruption. Red Cross staff have reunited 64 missing children with their families out of the 540 requests [7]. Many more remain unaccounted for. For a period of 12 months, the Red Cross will provide assistance to communities affected by various dangers and compounding humanitarian vulnerabilities as a result of Mount Nyiragongo's eruption. Red Cross workers will provide services such as shelter, household item distribution, water, sanitation, and hygiene, healthcare, protection, and psychosocial support as part of the operation. Caritas Australia is also planning to send aid to the region; Their Coordinator for DRC explains they are not only concerned about the destruction, but also the children and elderly who were not accompanied [8]. They will be supporting their partners in Goma with clean water, shelters, medical support, and food distributions [8].
James Chapman
SIHMA
Project Manager,
Maita Deborah Jena
SIHMA
Research and Communications Intern
and
Mary Cascarelli
SIHMA
Research and Communications Intern
References:
---
Categories:
---
Tags: