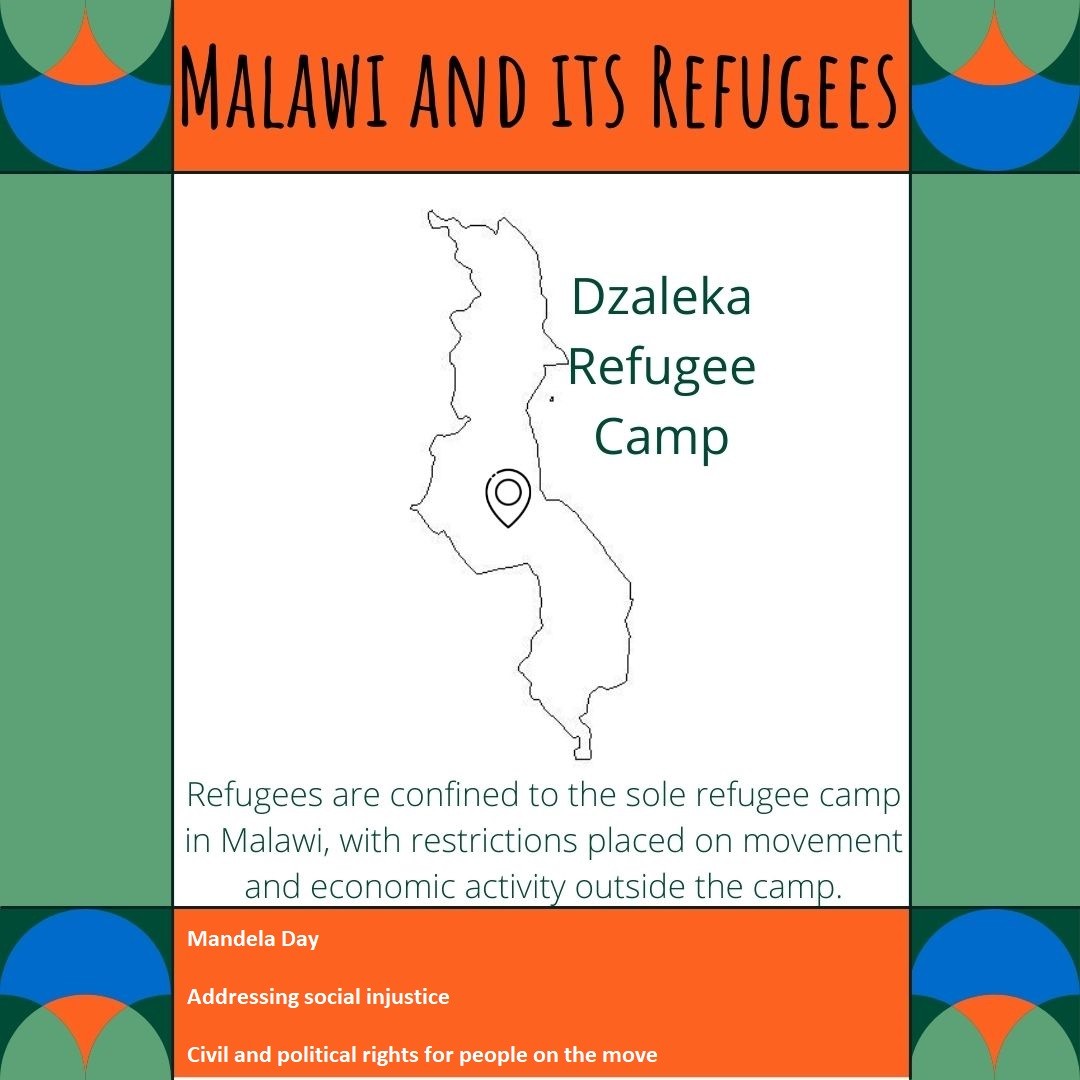 Refugees in Malawi, Migrants' Right to Vote, and Mandela Day Globally
Malawi has been receiving refugees for decades. It initially began receiving refugees from Mozambique as citizens struggled against Portuguese rule and thereafter received over a million refugees from Mozambique in the 1980s and in the early 1990s who fled the civil war [1]. Since then, Malawi has been the host to tens of thousands of refugees [1]. According to the UNHCR, there were a total number of 52,258 refugees and asylum seekers in Malawi as of May 31, 2021 [2]. These asylum seekers come from the Democratic Republic of the Congo (DRC), Burundi, Rwanda, Mozambique, and various other countries with the largest population coming from the DRC. Currently, the country only has one refugee camp, named Dzaleka. On January 31, 2021, 48, 547 refugees and asylum seekers lived in the camp that has an original design capacity for only 10,000 people [2].
According to the 1989 Malawian Refugee Act, a refugee is a person who has a reasonable fear of being persecuted for race, religion, nationality, social group, or political opinion outside of their country. They are also defined as persons who are forced to leave their place of residence due to external aggression, occupation, foreign domination, or events seriously disturbing public order [3]. Additionally, the 1989 Refugee Act states that any person can apply for refugee status if they have not committed a crime or are a danger to peace [3]. Section 42 of the constitution states, "No person shall be subjected to measures such as rejection at the frontier, return or expulsion which will compel him or her to return to or remain in a territory where his or her life or physical integrity will be threatened for the reasons mentioned in subsection (1)." [4]. The country is a party to both the 1951 Refugee Convention and the 1969 Organization for African Unity (now known as the African Union) Convention [1].
The Refugee Act of 1989 does not guarantee the right to education. However, there is an education system set up in Dzaleka Refugee Camp. Despite having an education system, only 4,269 of the approximately18,000 school aged children in the camp are able to attend school due to poor infrastructure. [5] There have been initiatives by the Malawian government and non-profit organizations to improve the education system in the camp. The Refugee Act and its regulations restrict the movement of refugees as well [3]. This is in part due to pressure over land and resources. The Malawian government repurposed a prison into Dzaleka refugee camp [1] with the purpose of all refugees living there. The camp has a large population of over 48,500 people and congestion is related to the legislative limitation on freedom of movement and poses a substantial health risk of community transmission of COVID-19 [2]. The restriction of movement also restricts economic activity [1]. Refugees are not allowed to conduct economic activity outside of camps, affecting the size of the market they serve. Many refugees are unable to find jobs within the refugee camps despite being overly qualified for available jobs [1]. Even in cases where refugees have obtained citizenship like where it is obtained through marriage to a Malawian national there is still resistance from local communities [1]. This in addition to restrictions on movement makes it difficult for refugees to succeed and prosper in the country [1,2].
Even though the Refugee Act and regulations restrict movement and economic activity, the government does provide voting rights to refugees. "While equal voting rights for women and other formerly disenfranchised categories have become enshrined in human rights conventions, the inclusion of non-citizens and non-residents has been largely left to democratic self-determination." [6] Most governments globally do not allow refugees and migrants to vote in national elections. In some countries, non-citizens are given the right to vote in local elections. While many refugees and migrants do not have the right to vote in national elections, non-citizens in Malawi are given this right [7]. Malawi grants voting rights in all elections to foreigners after seven years of residence [6]. In fact, Malawi is one of five countries that allow migrants and non-citizens to vote in national elections [7]. The other four countries are Chile, Ecuador, New Zealand, and Uruguay [7]. There is, however, a length requirement for residency that ranges from 1 to 15 years [7].
Despite providing voting rights to non-citizens, the Malawian government still prohibits the rights of certain social groups [8]. According to the 2019 United States State Department's Human Rights Report on Malawi, the government continues to ban registration of perceived refugees of the LGBTI community [8].
Nelson Mandela Day
Celebrated every year on Jul 18th, the day is on the anniversary President Nelson Mandela's Birthday and in this celebration and commemoration people across the world strive to address social injustice. The UN first started recognizing Nelson Mandela Day in 2009 after a unanimous decision of the UN General Assembly. [9] For the years 2019-2029, Mandela Day is focusing on 10 goals. They involve, education and literacy, food and nutrition, shelter, sanitation, and active citizenship. This year, Mandela Day is promoting food and nutrition. You can contribute to the Each1Feed1Campaign [10]. SIHMA honors Nelson Mandela and his work against social injustice, fair and transparent governance and in ending apartheid. Nelson Mandela played a pivotal role in ensuring that all South Africans have equal voting rights. As observed in Malawi with the right to vote for people on the move and in the context of addressing social injustice and Mandela Day perhaps we should stive for civil and political rights for people on the move.
James Chapman and April Walter

SIHMA SIHMA
Project Manager Communications and Research Intern
References
https://malawilii.org/mw/legislation/act/1989/3 - Refugee Act of 1989

Malawi Constitution section 42.

Arrighi, J.-T. and R. Bauböck 2016 A multilevel puzzle: Migrants' voting rights in national and local elections. European Journal of Political Research, 56(3):619–639

UN /IOM World Migration Report 2020, page 198
---
Categories:
---
Tags: