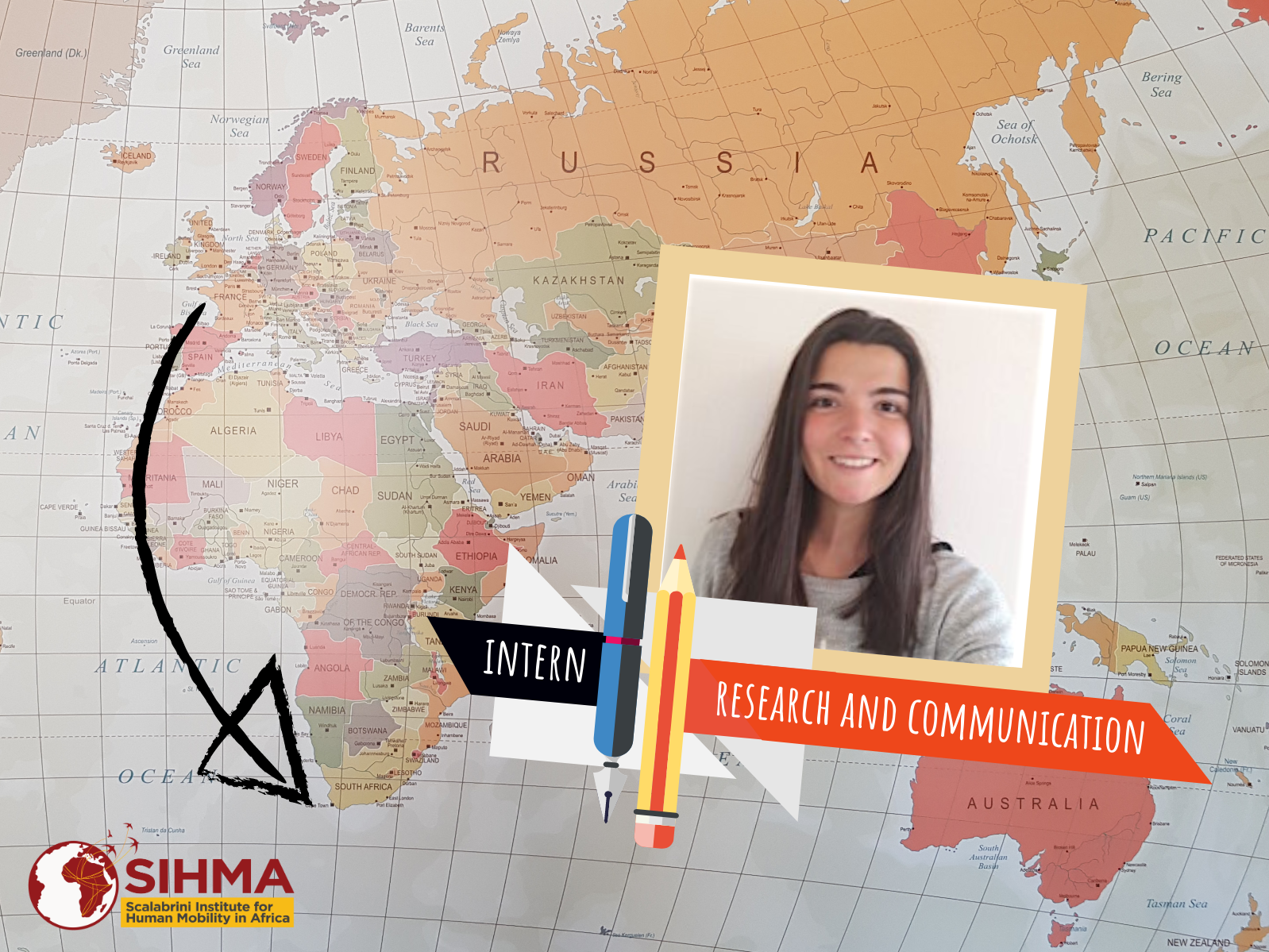 Nolwenn Marconnet's internship experience
This week's Blog post is dedicated to another brilliant intern of our team, Nolwenn Marconnet, who just came to the end of her internship experience at SIHMA.
We are very grateful to have worked and shared knowledge about human mobility with her. Nolwenn's preparation and dedication has been very important for SIHMA's research and communication.
Here you can read the testimonial about her months at SIHMA.
I, Nolwenn Marconnet, am a 24 years old student and aspiring migration scholar. As part of my masters in Advanced Migration Studies (AMIS) at the University of Copenhagen, Denmark, I conducted an internship with SIHMA from September 2020 to January 2021.
I was introduced to SIHMA by a former AMIS student who conducted an internship at SIHMA in 2018-2019. SIHMA immediately caught my attention by their approach to research, which does not only focus on academic research, but also aims at raising a broader awareness by an emphasis on communication and training. I also personally wanted to get away from Eurocentric research in migration and I was curious to discover what new perspectives I could gain by working in South Africa. Sadly, due to the ongoing Covid-19 pandemic, I was unable to join the team in Cape Town and conducted this internship remotely. Yet, we made it work!
Even if I never got the chance to meet SIHMA's amazing team in person, I was immediately trusted with tasks and I was able to actively contribute through writing blog posts, social media posts, and reports. I wrote eleven blog posts – including one with my fellow intern Christine Lalor – and two monthly press reviews, collaborated on a commissioned report on the impact on Covid-19, created five African country migration profiles, worked on the social media strategy by researching Facebook groups and monitoring social media statistics, selected and shared weekly news on social media (Facebook, Twitter and LinkedIn), and helped with other communication and research tasks (participating in online events, writing parts of reports, etc.). I was also given the opportunity to conduct my own research, in collaboration with SIHMA, on the best practices to combat human trafficking in Southern Africa, conducting online interviews and researching legal practices and conventions in a report that I have yet to finish. By the end of the internship, I tried to pass on what I learned to new interns and volunteers.
Work at SIHMA was sometimes challenging, as it was difficult to gather data and condense it in short blog posts or country profiles, but it was also incredibly rewarding. It pushed me out of my academic shoes and brought my attention to different topics, regions, and perspectives. I was able to bring my own intersectional and feminist perspectives to the table and create a series of blog posts on the exclusion of migrant women in Africa (from the labour market, health services, education etc.). I also gained a new understanding of the work of non-profit organizations in researching migration, driven by humanist and passionate people.
SIHMA's team was welcoming, trusting, and sincerely committed to raise awareness about migrants' rights across Africa. Where some organisations could do half as much with the time and resources at hand, SIHMA has a dynamic and innovative team which does not shy away from new challenges and opportunities to grow and promote positive change for migrants. I am sincerely thankful for the opportunities that I have been given at SIHMA as an intern and I believe in SIHMA's capacity, as a young, innovative and growing organisation, to contribute to more inclusive societies. My many thanks to Father Filippo, James and Debby for giving me the space and time to continue to further my learning journey on the complex road of migration studies. I sincerely hope to meet you all in Cape Town someday.
Nolwenn Marconnet
---
Categories:
---
Tags: