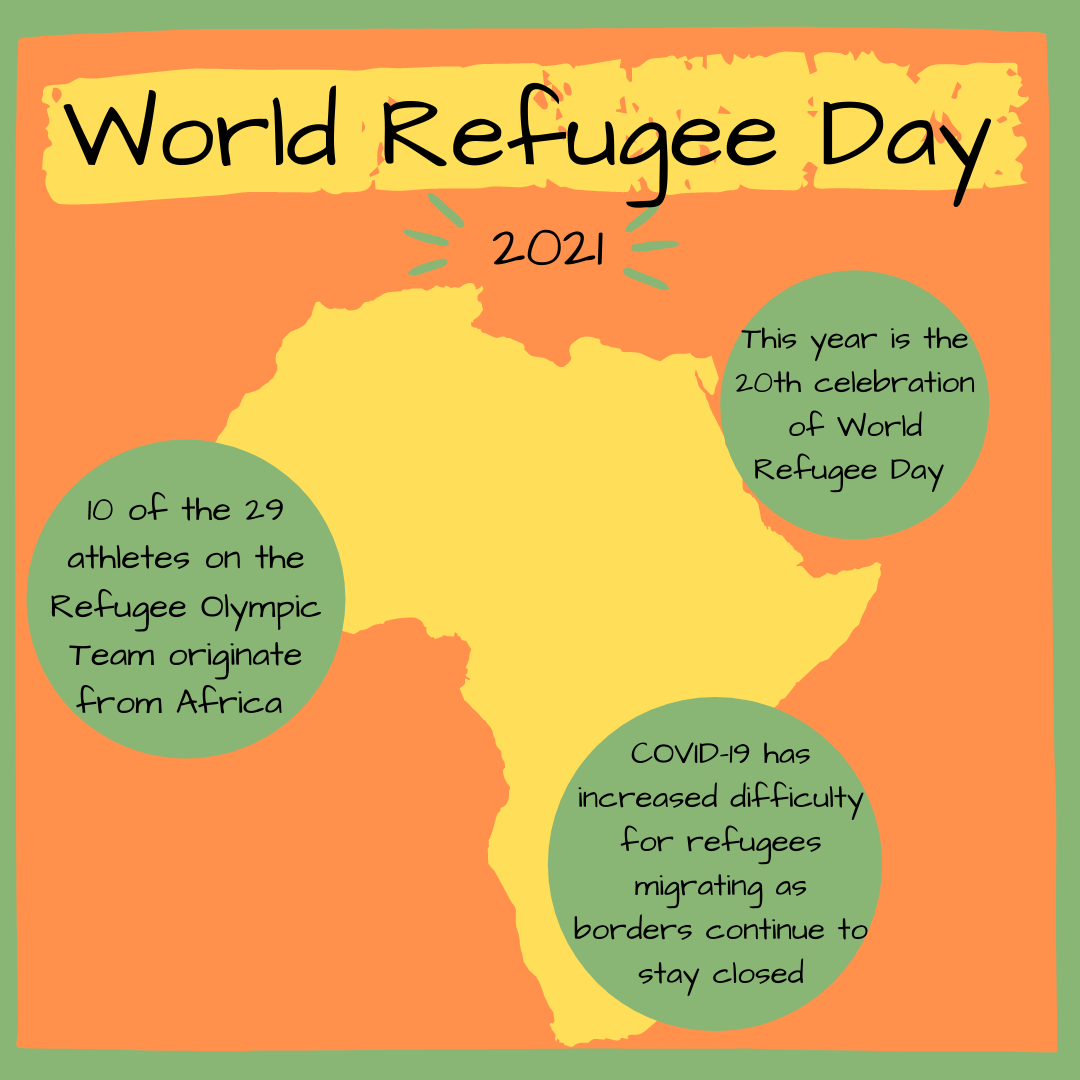 World Refugee Day 2021
The United Nations General Assembly introduced World Refugee Day in 2001. Before 2001, June 20th was celebrated as African Refugee Day, introduced in 1975. This day was established in 1975 by the then Organization for African Unity, now called the African Union. Today, the two days coincide to honor refugees around the world. It celebrates the dignity of the forcibly displaced. [1]
Who is a refugee?
According to the 1951 Refugee Convention, a refugee is "someone who is unable or unwilling to return to their country of origin owing to a well-founded fear of being persecuted for reasons of race, religion, nationality, membership of a particular social group, or political opinion." [2] In 1969, the Organization for African Unity Convention added to the 1951 definition. It includes those fleeing external aggression, occupation, foreign domination, or events seriously disturbing public order. [3] Refugees are forced to flee their homes with little possessions, money, no jobs, and often without family. At the end of 2020, there were 280.6 million refugees in the world.[4] From the African continent, there were 25.4 million refugees in mid-2020. [5] Sub-Saharan Africa holds over than 26 percent of the total world's refugee population. [6]
Heal, Learn, Shine
This year, the UNHCR is calling on the world to "support refugees across the globe to be protected and included in health care, education, and sport." The theme is "Together we heal, learn, and shine." Access to all forms of medical services for refugees is often scarce. They struggle to find schools for their children. Living conditions, after fleeing, prevent children from being kids. It is the UNHCR's mission this year to promote access to health care, quality education, and sport to help refugees succeed. [7]
This year, UNHCR's art contest is named "Together through sport." The organization asked refugees, asylum seekers, stateless, and internally displaced people to participate and send in their designs for footballs. Finalists will receive prizes and the winning balls will be sold to support refugee opportunities. [8]
Olympics
The Refugee Olympic Team that will compete in the 2021 Tokyo Olympic Games was announced June 8, 2021. The team is composed of 29 athletes and represent 11 different countries. [9] Of those athletes, 10 originate from Africa. Their countries are the Congo, South Sudan, Eritrea, the DRC, and Cameroon. Their sport ranges from track to judo to shooting to weightlifting. The athletes are:
Dorian Keletela (Congo-Brazzaville)
Rose Nathike Likonyen (South Sudan)
James Nyang Chiengjiek (South Sudan)
Anjelina Nadai Lohalith (South Sudan)
Paulo Amotun Lokoro (South Sudan)
Jamal Abdelmaji Eisa Mohammed (Sudan)
Tachlowini Gabriyesos (Eritrea)
Popole Misenga (DR Congo)
Luna Solomon (Eritrea)
Cyrille Fagat Tchatchet (Cameroon). [10]
Central African Republic
The number of refugees in Sub-Saharan Africa has risen due to the ongoing crises in the Central African Republic (CAR). Around 117,000 refugees from the CAR have already fled to the neighboring countries of Cameroon, Chad, and the Republic of Congo, reversing the efforts of the UNHCR to return Central African Refugees to their homes. 164,000 people are displaced within the country, fleeing the election related violence that began in late December 2020. [11] Armed rebel groups rose in the northern part of the CAR after the election results were contested causing fighting between rebels and government forces. As fighting continues, more people will continue to be displaced from the Central African Republic. Other countries on the continent that have produce substantial numbers of refugees in recent years are Sudan, DRC, South Sudan, and Somalia.
Democratic Republic of the Congo
The eruption of the Mount Nyiragongo volcano in Goma, Democratic Republic of the Congo on May 22 has increased the number of displaced people within the country. The 450,000 people who have fled the city to escape the eruption were without food, water, or shelter for days. [12] Over 3,500 lost their homes and will continue to remain displaced alongside the 245,000 that remain in other towns and villages. The government has started a phased return of those forced to flee and has continued to provide aid where it could. Those who lost their homes will be temporarily rehoused and given government assistance to rebuild them. [13]
COVID-19's Impact on Migration
The coronavirus pandemic has had an astronomical effect of on migration patterns and the number of African refugees and migrants. A study done by the International Organization for Migration found that more North Africans have traveled by boat to Europe as jobs have diminished due to lockdowns. However, travel by boat to Europe for Sub-Saharan Africans has decreased. Additionally, there has been an increased want to migrate due to lack of opportunities in home countries. Because of lockdowns and the closure of borders, crossing over borders has become increasingly more challenging. In a study, researchers found that 74% of West Africans that were interviewed in West Africa and 39% of West Africans in North Africa, that left their home countries after the pandemic, had increased difficulty moving between countries. [14] Additionally, it was harder for migrants to financially support their journey as the economies of most African countries suffered during lockdowns.
A 36-year-old migrant woman from Mali was interviewed in Tunisia. The following is a quote from her- "We have used all our savings, and we have lost our jobs, but it is getting better now. However, a lot of migrants are still not back to work. Especially before [in the beginning of the pandemic] a lot of migrants had no money, and some could not afford to eat." [14]
Concluding Comments
SIHMA is using June 20th to support refugees in their journey to heal, learn, and shine. We hope that the negative impacts of COVID-19 on displaced people is not long-lasting. It is our hope that refugees on the continent be accepted into their new host countries, or when country conditions allow, be repatriated to their home country voluntarily and with dignity. We ask that there is a continued protection of the human rights and freedoms of refugees, asylum seekers, internally displaced people, and migrants. Together, we can heal, learn, and shine.
James Chapman and April Walter
SIHMA SIHMA
Project Manager Communications and Research Intern
INTEREST IN WRITING SOMETHING FOR SIHMA?
If you are interested in contributing the SIHMA Blog on the Move please contact us at: https://www.sihma.org.za/contact or if you are interested writing an article to be reviewed and published in the African Human Mobility Review, please follow this link on making a submission: https://www.sihma.org.za/submit-an-article
References
---
Categories:
---
Tags: