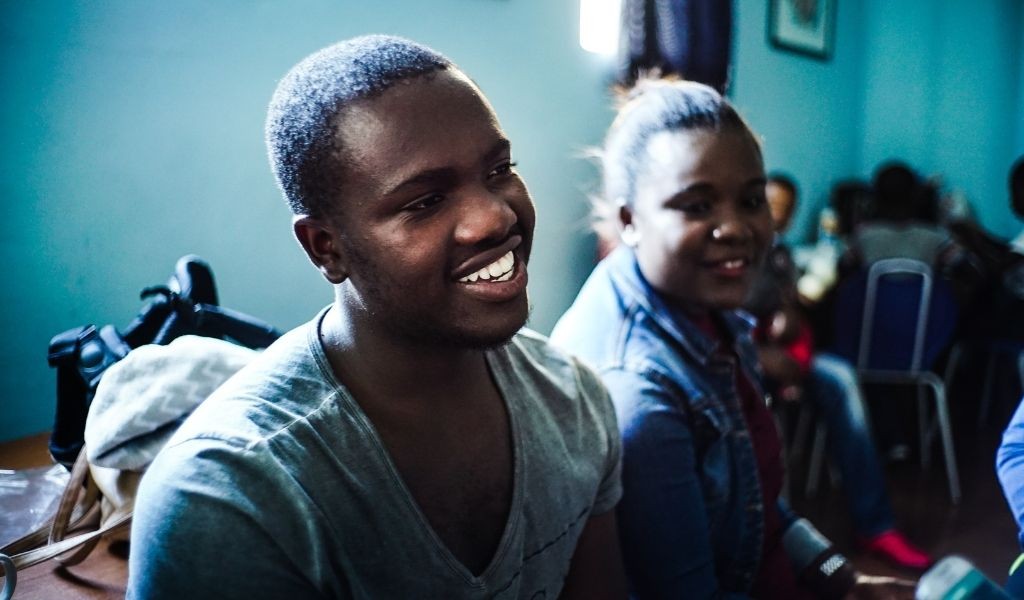 The Real Migration Gallery
Harmful and dehumanizing narratives on migration in media are contributing to maintaining a negative perception of migrants in society. The Real Migration Gallery was compiled by the Scalabrini Centre of Cape Town [1] to move away from these perceptions by sharing realistic photos of people with migrant, refugee, or asylum status. All the photos have been shot pro bono by photographers who wanted to contribute to this cause. Journalists and editors are welcome to use these royalty-free images in their stories to help us reframe the narratives on migration.
The cover photograph on this Blog post is entitled Young man hopeful future, by Hafeez Floris in the Scalabrini Real Migration Gallery [2] . Another photograph from the Gallery is seen below.
Cafe manager Joel in Cape Town - Mukendi Studio Scalabrini [2]
Why are the narratives on migration important?
Photos portraying migrants behind barbed wire, protesting, living on the streets, or being victims of xenophobic attacks are some of the issues we often see in media. This gives us a very narrow perception of what migration is really about. Instead of promoting compassion, unity, and kindness, it creates fear and misconception, which in turn creates a sense of migration being fundamentally problematic.
When migrants are blamed for problems in society, criminalized, or even dehumanized, it could deeply affect their opportunities in life. However, most migrants or refugees are trying to change their lives for the better by building families, starting businesses, and contributing to society. That is why the public narrative on migration needs to be improved to ensure the equality and human rights of migrants. People with migrant, refugee, or asylum status must be treated with dignity. Changing the narrative on migration in media can be a powerful tool to make this happen. The Real Migration Gallery [3] can therefore be used to challenge and change these inaccurate perceptions by portraying the real life of migrants.
James Chapman and Victoria Jensen

SIHMA SIHMA
Project Manager Research and Communications Intern
Sources:
Take a look at The Real Migration Gallery here:

https://www.scalabrini.org.za/real-migration-gallery/
INTEREST IN WRITING SOMETHING FOR SIHMA?
If you are interested in contributing to the SIHMA Blog on the Move please contact us at: https://www.sihma.org.za/contact or if you are interested writing an article to be reviewed and published in the African Human Mobility Review, please follow this link on making a submission: https://www.sihma.org.za/submit-an-article
---
Categories:
---
Tags: