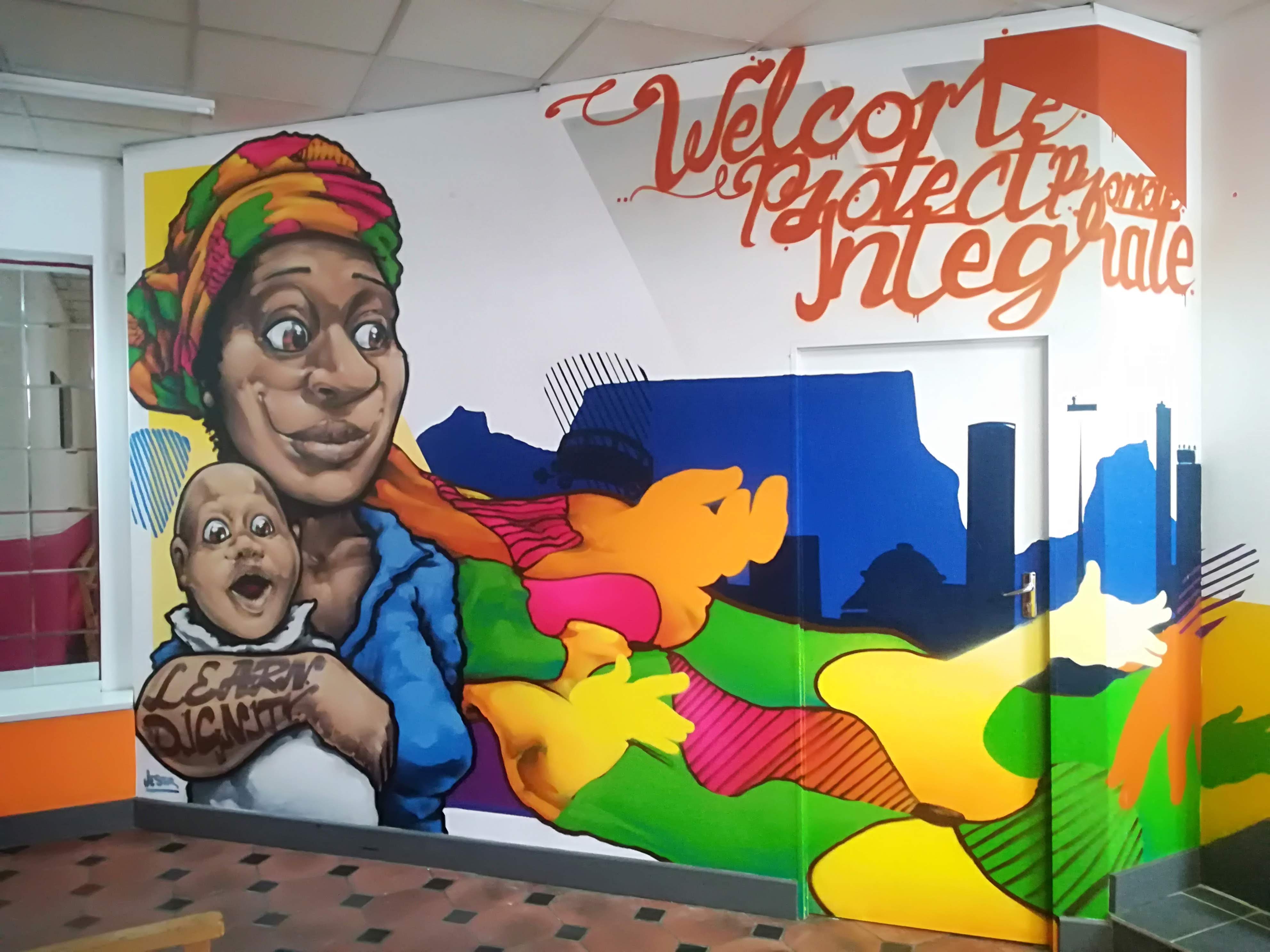 Meet the artist of our new graffiti
In our previous post we were anticipating the new Graffiti of our building. Our entrance in fact now is welcoming all SCCT' and SIHMA' customers with an artwork of a young South African artist, Jared, who represented the essence of welcoming people: an African mother holding her baby. On the mother's arm it is written 'learn dignity': the respect for human dignity is one of the core value of the services offered to migrants and refugees by the SCCT and by SIHMA. The graffiti also brings up the four actions proclaimed by Pope Francis in His message on the 2018 Migrants and Refugees World Day: "Welcome, protect, promote and integrate". In this message we find the themes of welcome and protection of migrants and unaccompanied minors and the opportunity represented by intercultural enrichment and integration. We want to know more about our Artist's inspiration and passion through this interview.
Tell us a little about yourself. Your name. Where are you born and where do you live, how old are you, what are your hobbies/passions?
My name is Jared and I write Jestr. I was born in Johannesburg but I have lived in Pretoria since 1999. I'm 29 and I am an artist and graffiti painter.
When did you start drawing graffiti? And how did you become a professional graffiti artist?
I was 13 when I started making graffiti, but I always loved drawing from a much younger age. During my final school years I didn't know what I wanted to be, but I knew what I liked doing and that was painting. It was a choice I made, and I've earned my finances in many different way but I have always held the painting as the ultimate focus. I always keep an open mind and apply my skills and experiences in ways that can help me push my discipline further and its definition further.
How do you design your artworks? Where do you get inspiration from?
I design my commission works in collaboration with the party commissioning the work. I achieve this by doing 3 initial sketches based on the clients brief, which are designed to be very different to one another. I send these 3 layouts to get feedback in return, and based on this feedback I generate a final layout which we sign off as the reference for the artwork. I draw my inspiration from people, and through this consultation I am able to create an artwork that is a collaborative between my thoughts and those of the my clients. For my personal work I am inspired by my own experiences and views of the world. My work is often introspective and is a means for me to express ideas and sentiments.
What do you have to say about the artwork you made for Scalabrini Centre and SIHMA?
I particularly enjoy the artwork at Scalabrini for it's lively characters and bright colours. The characters are relateable, and have a real sense of presence and depth and emotion. The bright flowing colours of material speaks of the colourful journey each individual is on in their own lives, and it's composition makes reference to the road traveled and the road to come.
What do you enjoy most about your work?
I enjoy being able to share something that I am so passionate about with others, especially in a way where I am able to gain insight into their worlds. Having the opportunity to use my passion to better someone else's surroundings and experiences and outlooks is ultimately most special.
Do you normaly accept the graffiti jobs according to what you prefer to draw, your inspiration or according to what you are good in? Or do you like to experiment different kind of subjects?
As mentioned above I keep my focus on my craft and disiplines, i.e being a professional painter who specializes in pressure-based mediums, and apply that to as broad a context as possible. I am ultimately an image-driven person with very strong ideas on aesthetics and how it affects the world around us, and so I try and apply this as broadly as possible.
In which cities and Countries can people see your artworks?
Mostly South Africa, Denmark and India. I have painted in many European cities.
What would you like to transmit through your art to the people who see your graffiti?
That they too are able to and should pursue what they'd like to see manifested in the world around them. People are responsible for the world they see/ experience, and they have to power to change it as they see fit if they care enough.
What and where is your favorite artwork you have done in your life so far?
I don't have a particular favorite piece, but one of my favorite places to paint is at the Roskilde Festival in Denmark. I first painted there in 2013, and this year in June of 2020 I am painting a focal work for the festival and I am very honored to be doing so. The festival is also a non-profit and all proceeds generated are donated to different charities. You can read more about it and follow the festival via their website: https://www.roskilde-festival.dk/
You can find photos of the making of the graffiti here.
---
Categories:
---
Tags: