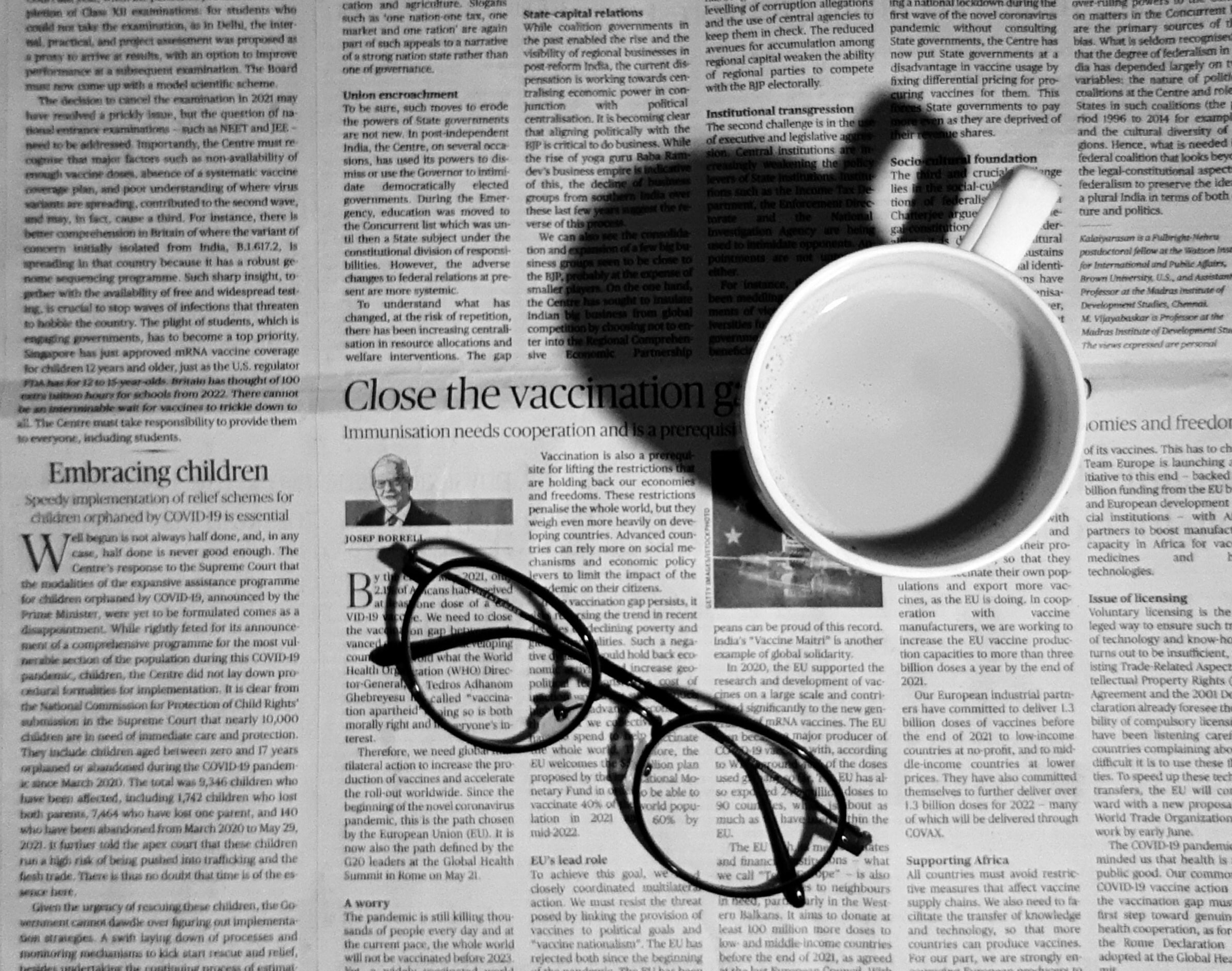 June 2021 - Press Review
National Coverage
South Africa's patchwork treatment of refugees and asylum seekers shows much to be done to ensure human rights for all
Daily Maverick- 17/06/2021
Although the laws and policies in South Africa that apply to refugees and asylum seekers are more progressive than others, there is still a lot to be done regarding their rights. In South Africa, what qualifies a refugee is taken from the 1951 UN Refugee Convention and the 1969 OAU Refugee Convention. The general rights of refugees are provided by Section 27 of the Refugees Act and the Constitution's Bill of Rights. However, authorities are less likely to uphold these rights than South African citizens. In the wake of Covid-19 and the numerous lockdowns South Africa has had to stop the spread of the virus, refugees have suffered. They have been unable to renew permits that the Department of Home Affairs issues. However, South Africa has created an online permit renewal system for asylum seeker and refugee permits. The government has also included asylum seekers and refugees in its Covid-19 vaccine distribution. Treatment of non-citizens by South Africans is poor. There has been an increase in xenophobic attacks, specifically on refugee and migrant owned businesses. Additionally, there has been anti-refugee and migrant legislation that has been introduced to keep non-citizens from participating in the economy. Additionally, many lesbian, gay, bisexual, and transgender (LGBT) refugees are denied asylum despite being legally eligible.
Read the full article here:
https://www.dailymaverick.co.za/article/2021-06-17-south-africas-patchwork-treatment-of-refugees-and-asylum-seekers-shows-much-to-be-done-to-ensure-human-rights-for-all/
Coronavirus does not discriminate: Inclusion of migrants in Covid-19 policy crucial for collective wellbeing
Daily Maverick – 20/06/2021
According to international human rights laws, South Africa is required to provide healthcare services to all individuals residing within its borders. This means that all migrants, both documented and undocumented, have the right to appropriate healthcare services without being discriminated against. In terms of the pandemic, it is crucial to include migrants in the Covid-19 response. The virus does not know the difference between migrants and individuals with South African citizenship. Stopping the virus can therefore not be done if not everyone is included.
Migrants now find themselves in an even more difficult situation than before. The pandemic has been added to the list of challenges in their everyday life. Even though there are both international and national laws in place to ensure migrants' human rights, they struggle to be heard. The article mentions two court cases in South Africa that serves as a reminder of how migrants' legal status can affect their access to services. The first case is about two stateless minors who tried to obtain South African citizenship which they were entitled to by law. The second addressed the criteria for the Covid-19 relief grant, which originally excluded asylum seekers and special permit holders.
Access to assistance and services is a great challenge for individuals without the right documentation. If South Africa does not include migrants in their Covid-19 response, they will be at risk of being unsuccessful with their management of the virus. "No one is safe until everyone is safe".
Read the full article here:
https://www.dailymaverick.co.za/article/2021-06-20-coronavirus-does-not-discriminate-inclusion-of-migrants-in-covid-19-policy-crucial-for-collective-wellbeing/
Refugees in South Africa still live in fear of xenophobic attacks
Yeni Safak- 21/06/2021
Many refugees and asylum seekers are still subjected to xenophobic attacks. Soweto, a township near Johannesburg, was the target of recent attacks. Additionally, during election years, refugees and migrants are fearful of attacks because politicians use them as scapegoats. They are blamed for failed delivery of promises made during their campaigns. Some locals also believe that they are there to take jobs. Somalis, Ethiopians, Bangladeshis, Pakistanis, and West African non-citizens are the migrants and refugees that are among the most targeted. The South African government has continuously condemned these attacks, but on the local level, authorities are usually late to respond.
Read the full article here:
https://www.yenisafak.com/en/world/refugees-in-south-africa-still-live-in-fear-of-xenophobic-attacks-3574874
More information about xenophobia in South Africa can be found here:
https://www.theguardian.com/world/2021/jun/21/documenting-violence-against-migrants-in-south-africa-a-photo-essay
https://www.umnews.org/en/news/church-takes-on-xenophobia-in-south-africa
Regional Coverage
DR Congo to start phased return of residents to volcano-hot Goma
Aljazeera- 07/06/2021
The Democratic Republic of the Congo has begun a phased return of residents that were displaced from the city of Goma after a volcanic eruption in May of 2021. The volcano destroyed thousands of homes. There were about 245,000 displaced in nearby towns and villages. The return of those displaced is being run by the military governor. Those who lost their homes will be given temporary housing and given government assistance to rebuild.
Read the full article here:
https://www.aljazeera.com/news/2021/6/7/dr-congo-to-start-phased-return-of-residents-to-volcano-hit-goma
Tanzania Told to End Forced Deportations of Mozambican Asylum Seekers
VOA News- 11/06/2021
The U.N. refugee agency has repeated its call to Tanzanian authorities to stop deporting asylum seekers. These people are being deported to Mozambique, where violence has continued to increase due to Islamist militants. Despite violence subsiding, thousands of people continue to be displaced. UNHCR teams alongside the Tanzania-Mozambique border report that those who are arriving at the border are in desperate condition. They are turned away, facing gender-based violence and health risks. Many are without food, water, and proper shelter.
Read the full article here:
https://www.voanews.com/africa/tanzania-told-end-forced-deportations-mozambican-asylum-seekers
TECNO And UNHCR Continue Partnership for Children Refugee Education
Tech In Africa- 11/06/2021
The smartphone brand TENCO has renewed their partnership with the United Nations High Commissioner for Refugees (UNHCR) to provide refugee children with education. Their work is focused in Ugandan and Kenyan camps, aiming to help the 10,670 refugee children in these countries. TECNO is aiming to build school infrastructure, providing materials and catering to the students' special needs. Additionally, the company is providing training for teachers in these camps. There is hoped to expand efforts after the COVID pandemic lessens in Africa.
Read full article here:
https://www.techinafrica.com/tecno-and-unhcr-continue-partnership-for-children-refugee
Southern African nations agree to deploy forces to Mozambique
Aljazeera- 23/06/2021
Because of ongoing violence in the northern part of Mozambique, 3,000 have been killed and 800,000 have been displaced since 2017. The Southern African Development Community (SADC) agreed to deploy troops to the northern part of the country. The deployment will consist of a "Standby Force in support of Mozambique to combat terrorism and acts of violent extremism in Cabo Delgado". SADC did not give much detail about the standby force, only stating that humanitarian aid would be given to those most in need. Officials are asking when troops will be deployed, how many, and what they will be involved in.
Read the full article at:
https://www.aljazeera.com/news/2021/6/23/southern-african-nations-agree-to-deploy-forces-to-mozambique?fbclid=IwAR3cjykmEttAdxaiTdLpPhi1ReCo9S2DS7TdgPtlEMSywkzdkIJNtpyoI-k#:~:text=On%20Wednesday%2C%20SADC%20Executive%20Secretary,violent%20extremism%20in%20Cabo%20Delgado%E2%80%9D
UNESCO inaugurates the 'Garden of Africa,' a new resting place for refugees who died in the Mediterranean
Morning Star- 11/06/2021
The director-general of the UN's cultural agency, UNESCO inaugurated the Garden of Africa (Le Jardin d'Afrique) in the coastal town of Zarzis, Tunisia. The purpose of the Garden is to honor those that drowned attempting to cross the Mediterranean to Europe. The Garden is modeled after the work of Rachid Koraichi, an Algerian French artist. His work was shown at the October Gallery in London. The Garden of Africa is to be considered a symbol and burial place for the refugees that have lost their lives on their journey. It is non-denominational.
Read the full article here:
https://morningstaronline.co.uk/article/w/unesco-inaugurates-garden-africa-new-resting-place-refugees-who-died-mediterranean
Severe storms damage shelters of 16,000 Ethiopian refugees in Sudan
Relief Web- 29/06/2021
Strong winds, heavy rains, and hailstorms have damaged the tents and infrastructures of the refugee settlements of Um Rakuba and Tunaydbah in eastern Sudan. About 4,000 of the 10,000 family tents have been damaged or destroyed. The emergency latrines and other buildings were also ruined. The UN Refugee Agency is working to replace shelters and emergency facilities and regain access to clean water. They are supplying emergency shelter kits that will assist in rebuilding and reinforcing tents. Storms are expected to continue and intensify throughout the rainy season that lasts until October. After rainy season, more permanent hut structures called tukuls are expected to be built.
Read the full article here:
https://reliefweb.int/report/sudan/severe-storms-damage-shelters-16000-ethiopian-refugees-sudan-enar
International Coverage
Tunisia: 54 rescued migrants await transfer to detention centre
Africa News - 11/06/2021
Recently, 54 undocumented migrants from various African countries and nationalities were rescued by Tunisian authorities. These migrants, aged 15 and 40 years old were attempting to cross the Mediterranean into Europe from Libya. They were being held at Tunisia's port of El Ketef in Ben Guerdane, waiting to be transferred to a detention centre. There has been a total of 1,400 migrant deaths in the Mediterranean this past year. Those shipwrecked are rescued by the Tunisan navy.
Read the full article here:
https://www.africanews.com/2021/06/11/tunisia-54-rescued-migrants-await-transfer-to-detention-centre/
Climate Refugees 'seeking asylum' in international law
Anadolu Agency- 20/06/2021
According to the 1951 Refugee Convention, persons fleeing land because of climate change are not considered legal refugees under international law. Because there is no legal definition or framework given to these displaced people, they are severely under helped. Additionally, the number of those displaced for climate change related reasons has increased significantly. The UN Refugee Agency (UNHCR) reported that around 21 million people have been forced to move annually since 2010 due to weather related activities. Additionally, the agency reported that weather-related crises have cause more than double the amount of those displaced than violence in the last decade. Agencies such as NATO have begun to increase awareness and tracking on climate refugees.
Read the full article here:
https://www.aa.com.tr/en/environment/climate-refugees-seeking-asylum-in-international-law/2279788?fbclid=IwAR3CZLnRAQ7g4w0wOHB0074sgskNd6JJqGLHLlGrg27OMtfOP3EeqrcGhr8
UN Refugee Agency Releases 2022 resettlement needs
UNHCR-23/06/2021
According to the Projected Global Needs 2022 report issued by the UN Refugee Agency, about 1.47 million refugees will be in need of resettlement in 2022. Syrian refugees are one of the highest displaced populations with the highest resettlement needs. Following Syrians are refugees from the Democratic Republic of the Congo, South Sudan, Afghanistan, and Eritrea. Despite the coronavirus pandemic war, violence, and conflict has continued to rage across the world. As a result of this conflict during the pandemic, those who are displaced are seeing themselves faced with more poverty and widespread risks such as trafficking. Because almost 90% of the world's displaced population is in developing countries, the pandemic stretched the already thin supply of resources even further. Additionally, travel restrictions and border closures limited resettlement even further. In fact, less than 35,000 refugees out of the 20.7 million were resettled in 2020.
Read the full article here:
https://www.unhcr.org/news/press/2021/6/60d32ba44/un-refugee-agency-releases-2022-resettlement-needs.html
EU plan to fund Turkey border control 'risks refugees' forced return'
The Guardian- 23/06/2021
The European Union (EU) recently proposed funds for controls for immigration at Turkey's eastern border. This proposal has been seen as problematic because it could force refugees back into Syria, Iran, and Iraq, places that are unsafe for those trying to enter Turkey. The proposal suggests that EU funding should move beyond humanitarian focus solely. It proposed that there should be funding for migration management and border control. There is fear that if this proposal is approved, Syrians and other refugees crossing into Turkey will not receive the aid they need or reach safety.
Read the full article here:
https://www.theguardian.com/world/2021/jun/23/eu-proposal-to-fund-turkey-border-control-could-lead-to-syrian-refugees-forced-return
91 countries now offer COVID-19 vaccinations to refugees, says UNHCR
UN News- 24/06/2021
The UNHCR reported that 91 of the 162 countries it is monitoring have begun to distribute vaccinations to refugees and asylum seekers. It is urging countries to do more to remove the barriers that are preventing displaced people from receiving vaccines. In Sub-Saharan Africa, coronavirus cases continue to rise. Many of the vaccination sites are far from where refugees live. Additionally, some countries require an official ID, which many refugees do not have. Many countries also require vaccine registration online, while many refugees do not have access to the internet. To help combat some of these issues, Portugal, introduced a separate registration system for undocumented people and refugees to ensure that everyone has access to the vaccine.
Read the full article here:
https://news.un.org/en/story/2021/06/1094662
IPC announces six athletes to compete for the Refugee Paralympic Team at the Tokyo 2020 Paralympic Games
UNHCR- 30/06/2021
On June 30, 2021, the International Paralympic Committee (IPC) confirmed the six athletes that will be representing the Refugee Paralympic Team (RPT) at the Tokyo 2020 PAralympuc Games. The team consists of 1 woman and 5 men, competing in Para athletics, Para swimming, Para canoe, and Para taekwondo. They are from Syria, Burundi, Afghanistan, and Iran. The team represents the 82 million displaced people around the world that have been forced to flee their homes because of war, persecution, and human rights abuses. Of those 82 million, 12 million live with a disability.
Read the full article here:
https://www.unhcr.org/news/press/2021/6/60dc06bb4/ipc-announces-six-athletes-compete-refugee-paralympic-team-tokyo-2020-paralympic.html
---
Categories:
---
Tags: