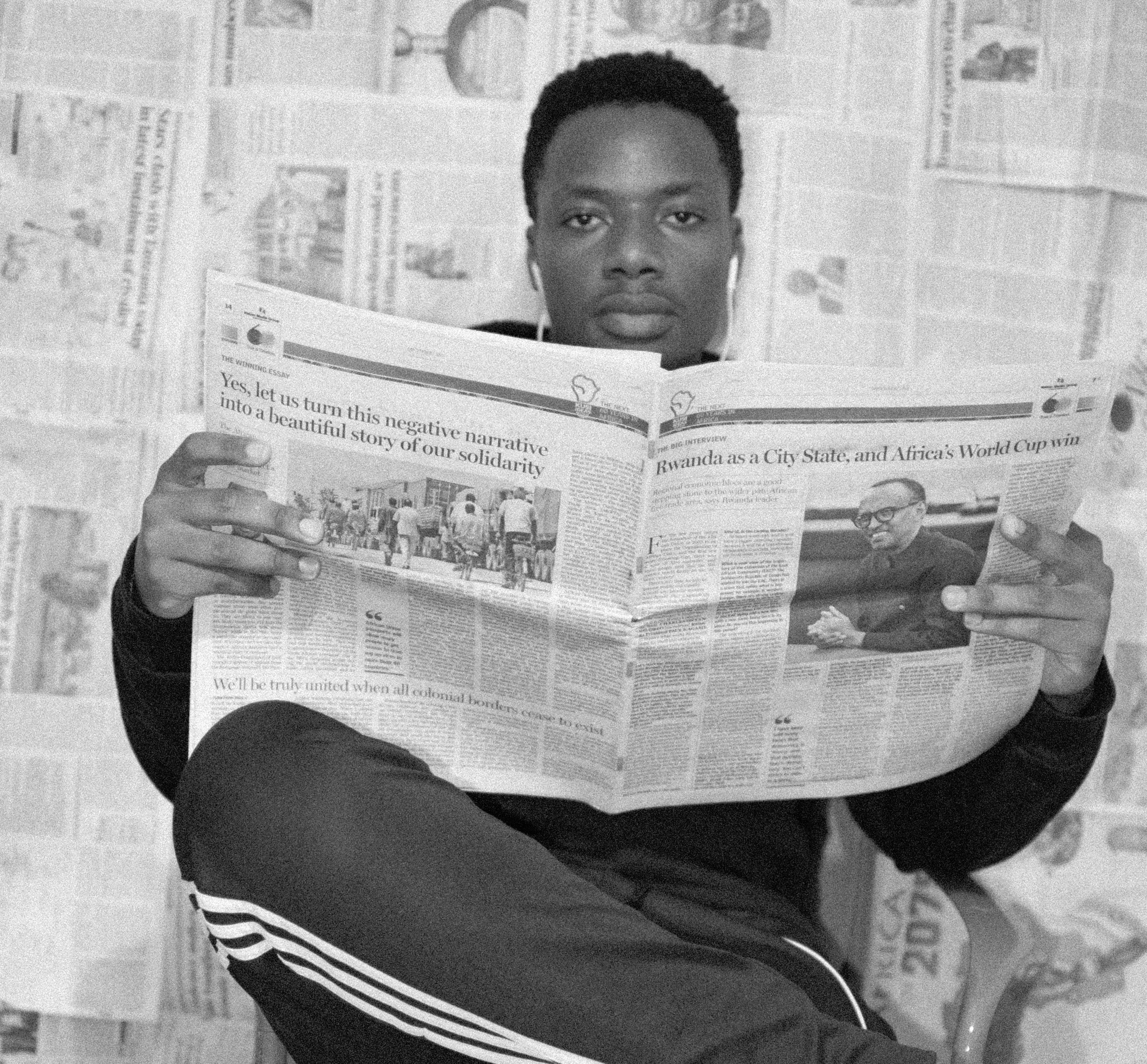 January 2021 - Press Review
NATIONAL COVERAGE
Violent vocabularies and hypernationalism: #PutSouthAfricansFirst is misguided xenophobia
Daily Maverick – 4 January 2021
Social media and the 'real world' are mutually constitutive realities, and the emergence of hyper-nationalist and seemingly patriotic hashtags such as #WeWantOurCountryBack are both reflective and productive of xenophobia in South Africa. Phrases such as #CleanUpSA and #PutSouthAfricansFirst represent the discursive foundation for the dehumanisation of migrants. Political exploitation of this rhetoric was visible during the first phases of response to the #Covid-19 virus, when the Zimbabwean #border was secured to prevent the spread of the virus. Not only was the budgeting of such operation extreme (R37 million) but it significantly undermined the South African response to Covid-19. The dangerous discursive practices on social media rely on long-standing social anger, nourished by years of poverty, inequality, and suffering. The embers of coloniality must be acknowledged as central to such patterns of 'othering', and must be dismantled.
Read full article at: https://www.dailymaverick.co.za/opinionista/2021-01-04-violent-vocabularies-and-hypernationalism-putsouthafricansfirst-is-misguided-xenophobia/
Drones, dinghies and an army helicopter – why the state's new toys won't help South Africa's response to Covid-19
Daily Maverick – 8 January 2021
Migrant bodies are increasingly constructed as a #threat to the health of everyone in South Africa. Such discursive reality is closely tied to South Africa' migration policy, which has been focusing on the securitisation of borders at the expense of an effective Covid-19 vaccination rollout. The closure of borders is likely to increase irregular migration and to further erode the rights of non-citizens to preventative and curative healthcare. Vaccine nationalism is likely to prolong infections and delay recovery, as border closure does not prevent the transmission of communicable diseases. Also, non-discriminatory inclusion is a basic public health and disease control principle. The development of a regional vaccination strategy is crucial, in a region so profoundly shaped by the movement of people and economically dependent on migrant labour.
Read full article at: https://www.dailymaverick.co.za/article/2021-01-08-drones-dinghies-and-an-army-helicopter-why-the-states-new-toys-wont-help-south-africas-response-to-covid-19/
Further information on migration and the response to the pandemic and health concerns can be found at:
Malawian Migrant Workers, Back Home from South Africa, Riot in Quarantine
Voice of Africa – January 14 2021
Malawi has determined that all migrant workers returning from South Africa must undergo a period of quarantine upon arrival. Most migrant workers returning to Malawi had to do so after losing their jobs amid the Covid-19 pandemic. More than 600 people returned by mid-January, yet the extremely poor living conditions they were exposed to pushed them to protest, whilst at least 20 returnees escaped. Police used tear gas to end the riot.
Read full article at: https://www.voanews.com/africa/malawian-migrant-workers-back-home-south-africa-riot-quarantine
Truck drivers speak of chaos, inhumanity at Beitbridge border
Times Live – 6 January 2021
"I was stuck in my truck for days, not able to leave for fear of losing my place in the queue. The controlling of the queues was not good — things kept changing. At one stage the queue moved 200m a day — if we were lucky," a truck driver stuck at Beitbridge reported to Times Live. Among those stuck at the border between South Africa (SA) and Zimbabwe, many reported being robbed and deprived of basic labour rights, as there was no food or water, and gunshots went off as criminals operated undisturbed. The closure of the border on January 4 created a huge influx of regular and irregular migrants attempting to cross the border into SA, which in turn caused a huge backlog in the processing of documentation and Covid-19 testing. Beyond forcing people to remain in inhumane conditions, the congestion at Beitbridge is also likely to have devastating consequences on the local community and on the incremental infection of people. The Limpopo government must not only protect South Africans from Covid-19 infections in the area but should also ensure that migrants be treated with dignity.
Read full article at: https://www.timeslive.co.za/news/south-africa/2021-01-06-truck-drivers-speak-of-chaos-inhumanity-at-beitbridge-border/
REGIONAL COVERAGE
Central African Republic: Post-election violence triggers mass displacement
UN News – 8 January 2021
Post-election violence in the Central African Republic has triggered the mass displacement of more than 200,000 people who have crossed the national borders towards the neighbouring countries of Cameroon, Chad and Democratic Republic of Congo (DRC). Since the beginning of December, circa 185,000 Central Africans have been internally displaced due to fear of violence. UN officials also raise concerns over the reported human rights abuses linked to the presidential elections held on the 27th of December 2020. As new arrivals continue, refugees are being moved into makeshift shelters, and have urgent needs for basic services such as water and sanitation facilities.
https://news.un.org/en/story/2021/01/1081682
More than 2 million children are being cut off from humanitarian aid in Ethiopia's Tigray
The South African – 2 January 2021
Henrietta Fore, the executive director of UNICEF, underlined that in Ethiopia's Tigray there are currently 2.3 million minors struggling to access humanitarian aid for water and sanitation, critical vaccines and medicines and to counter malnutrition. The explosion of the conflict in November has led to the forced migration of over 50,000 Ethiopian refugees into Sudan, with almost half of them being children. Humanitarian agencies struggle to access vulnerable areas, and call for support to help provide basic services to Ethiopian refugees in Sudan.
Read the full The South African article at: https://www.thesouthafrican.com/news/africa/more-than-2-million-children-in-ethiopias-tigray-cut-off-from-humanitarian-aid/
Migrants in East Africa more vulnerable to COVID-19: UN
Anadolu Agency – 20 January 2021
Migrants and IDPs are increasingly vulnerable to #Covid-19, as cases keep rising in East Africa and the Horn of Africa region. The IOM is stressing how poor conditions, lack of access to medical care, and overcrowding disproportionately expose migrants and IDPs to infections. 6.3 million IDPs in the region are experiencing stigma and xenophobia by being blamed of spreading the disease. The IOM is currently seeking to raise enough money to provide food, medical assistance, transport and water for many migrants
https://www.aa.com.tr/en/africa/migrants-in-east-africa-more-vulnerable-to-covid-19-un/2117348
The debt of migrants assisted with voluntary return and its impact on the sustainability of reintegration in Senegal
ReliefWeb – 21 January 2021
The IOM's Assisted Voluntary Return and Reintegration Programme (AVRR) facilitated the #return of more than 6,000 migrants to Senegal between January 2017 and July 2020. 72% of the surveyed returning migrants reported having debts, which are usually owed to friends and family and are thus free of interest. However, 42% of migrants reported how debt had a negative impact on their personal economic situation, while 45% said it affected their social and psychological wellbeing. 18% reported being subjected to threats, abuse, and violence to repay the debt. The social dimension of debt prevents reintegration and potentially becomes a new #driver for further migration
https://reliefweb.int/report/senegal/research-brief-migrant-debt-senegal-west-and-central-africa-november-2020
African cities must prepare for climate migration
Institute for Security Studies – 15 January 2021
Drought, salinisation, desertification, glacial retreat, sea-level rise and ocean-acidification are all slow-onset climate impacts. Rising temperatures in Africa are generating new forms of climatic unpredictability and are likely to progressively worsen soil quality and water supplies. But sub-Saharan Africa employs 65% of its labour force in agriculture and is reliant by 95% on rainfed food products. The nexus between migration and climate change is complex, yet migration can be developed as a resilience strategy against environmental destruction and is likely to increase urbanisation as Africa is likely to have 86 million internal climate migrants by 2050.
https://issafrica.org/iss-today/african-cities-must-prepare-for-climate-migration
INTERNATIONAL COVERAGE
UN Reports 43 dead after migrant ship sinks off Libyan Coast
Voice of Africa – 20 January 2021
The IOM and the UNHCR issued a joint statement reporting how 43 migrants died whilst crossing the Mediterranean sea by boat, to reach to Southern coasts of Europe. As indicated by the report, the vessel that was transporting the migrants overturned in rough seas, and had been navigating with a broken engine since a few hours post-departure. Of all those on the ship, 10 migrants managed to survive and reported coming from West African countries, as the coastal security rescued them and provided them with emergency assistance, food, water and medical screenings. This tragedy marks the first incident in the Mediterranean reported in 2021, following a year marked by the death of hundreds of migrants at sea.
https://www.voanews.com/africa/un-reports-43-dead-after-migrant-ship-sinks-libyan-coast
Journeys of hope: what will migration routes into Europe look like in 2021?
The Guardian – 14 January 2021
2020 has been a complex year in general, and in terms of migration it has been the stage of hundreds of migrant deaths at sea and along securitised borders. Migrants died crossing the Mediterranean sea, they were detained and tortured in detention centres of Libya, and were displaced by the flames of Moria refugee camp in Greece and rejected in Bosnia. In fact, after the strong securitisation of the Serbian border in 2018, most migrants have attempted to cross the area through Bosnia and Herzegovina (Balkan Route), in hopes to reach Croatia and eventually Italy or Austria. The perils of the journey are aggravated by the brutal police pushbacks at Europe's borders, with more than 15,600 people being rejected at the Croatian border. More than 60% of the pushback cases involved violence. Parallel to this, 2020 was one of the most terrible years for asylum seekers arriving in Greece, as the combination of Covid-19 and violence lead to breaking points on the islands and to the destruction of the Moria camp. The pandemic has been utilised as a mechanism to accelerate the closure of centres and to increase border controls in Greece, Croatia, Italy, and the UK.
Read full article at: https://www.theguardian.com/global-development/2021/jan/14/journeys-of-hope-what-will-migration-routes-into-europe-look-like-in-2021
Channel migrants: 17 people enter UK on two small boats
BBC - 29 January 2021
After crossing the English Channel on two small boats, seventeen migrants entered the UK, reported the Home Office. The French authorities picked up a further 78 people on Thursday who had attempted to make a cross-channel voyage on four vessels. Authorities believe that the drop in wind speeds overnight might have pushed most to attempt to reach the UK shores, since prior to this the bad weather had made it impossible to do so for more than a week. The UK's core strategy is to prevent the arrival of irregular migrants on its shores. 'The government continues to undertake substantial steps to tackle the unacceptable problem of illegal migration, including legislative changes so crossings of this nature are treated as inadmissible...' said UK immigration Minister Chris Philip.
Read full story at:
https://www.bbc.com/news/uk-england-kent-55848623
In the name of 'humanity': Mexican bishop calls for probe into suspected massacre of migrants
NBC – 29 January 2021
In a letter addressed to the Mexican president, Bishop Jose Torres, a prominent Mexican Catholic priest, wrote that Mexico's federal government should guarantee the rights of migrants in Mexican territory and establish humane policies. 19 dead bodies were recovered by authorities in the border state of Tamaulipas, and many presented with gunshot wounds. Families have been pressuring for exhaustive investigation and have provided DNA samples to confirm the identities of the victims – since authorities have not yet to establish the identity of the victims and of the perpetrators. Every year thousands of Central Americans flee violence and poverty and undertake dangerous journeys that expose them to crime and abuse. Parallel to such reality, the implementation of repressive immigration policies and the persecution of migrants in the US, are central drivers for human tragedy and loss.
Read full story at: https://www.nbcnews.com/news/latino/name-humanity-mexican-bishop-calls-probe-suspected-massacre-migrants-n1256148?fbclid=IwAR1pAAOJDDsE1k2fguGkOwDZ8wYRYvqI0nyzCfJbB-GIZWOloSWbjddcph0
Spain: New migrant camps in the Canary Islands
INFOMIGRANTS – 27 January 2021
The increased arrival of migrants in the Canary Islands has pressured the local authorities to move some migrants to tents in two camps on Gran Canaria, as four more camps will be established in mid-February on Tenerife, Fuerteventura and Gran Canaria islands. The tents utilized to host the migrants serve as temporary shelter for the migrants waiting for their asylum applications to be processed and will likely be replaced with permanent facilities, at a later date. However, the Spanish government wants to avoid transferring migrants to mainland Spain, in order to discourage the arrival of more migrants on the islands. But such strategy is highly detrimental to the local population, and to the migrants' access to rights and assistance. In fact, the situation already triggered local protests, which have been politically backed by far-right parties like Vox.
Read full article at: https://www.infomigrants.net/en/post/29909/spain-new-migrant-camps-in-the-canary-islands
Photo by ian maina on Unsplash
---
Categories:
---
Tags: