IOM's webinar on "Missing Migrant Project Stakeholder Engagement Workshop in the Southern Africa Region"
Event start: 15:00 (SA time) 2020-12-04 Event start: 16:00 2020-12-04
Location:
virtual
IOM GMDAC organized a webinar on "Missing Migrant Project Stakeholder Engagement Workshop in the Southern Africa Region", the study on child migration on the Southern route.
Our Porject Manager, James Chapman took part on this very interesting webinar, here attached the agenda of the event.
A post on our Blog on the Move regarding the participation on the content of the event will come soon!
About IOM's Missing Migrant Project (MMP)
The IOM's Missing Migrants Project, spearheaded by the IOM Global Migration Data Analysis Centre (GMDAC) based in Berlin, Germany, was initiated in 2014 to track deaths of migrants, including refugees and asylum-seekers, who died or have gone missing along mixed migration routes worldwide. Across states situated along migration corridors, structures are in place to report on and deal with matters of missing migrants, based on data collected from sources like the media, government authorities, NGOs, and other relevant stakeholders. Nonetheless, data on migrant deaths and disappearances is highly incomplete in many regions of the world, including Southern Africa.
Given the increasing relevance of migration within the Southern African region, including movements of an irregular nature, IOM's MMP seeks to seeks to provide a better understanding of events involving the deaths or disappearances of migrants who are journeying from one country to another either through the so-called Southern Route, connecting East and Horn of Africa and South Africa through Kenya and Tanzania, as well as through intra-regional routes within the region.
The effort of enhancing the availability of timely and reliable data on missing and dead migrants, contributes to SDG Indicator 10.7.3 "Number of people who died or disappeared in the process of migration towards an international destination." It also upholds the first Objective of the Global Migration Compact, which calls on Member States to "Collect and utilize accurate and disaggregated data as a basis for evidence-based policies," and supports the ministerial recommendation of the 2017 Migration Dialogue for Southern Africa (MIDSA) held in Eswatini which encourages Member States to 'build capacities to collect and analyze migration data to strengthen evidence-based policy-making.'
Introduction
Migratory routes within Southern Africa are believed to pose significant risks, especially to migrants in irregular situations, but remain largely understudied. Evidence on migrants' deaths and disappearances is largely anecdotal due to paucity in data and dearth of reliable, complete reportage.
While the regional realities and the uneven nature of development provide evidence for the lingering economic undertones of this human mobility and migration, little has been done to reduce the associated risks and vulnerabilities of irregular migration. Notably, irregular crossings occur due to the length and porosity of borders in the region, which remain difficult to fully patrol.
These risks are exemplified in the recent drowning of at least 38 people, including many children, in an overcrowded vessel carrying civilians fleeing insecurity in Cabo Delgado Province, Mozambique on the 29th of October 2020. Also in March 2020, 64 Ethiopian migrants were recorded to have died near Tété, Mozambique. The migrants, who were traveling toward South Africa in the back of a truck died by asphyxiation, underscoring the numerous dangers and vulnerabilities faced by migrants undertaking dangerous and irregular routes in the region.
Objectives of the Missing Migrant Project Stakeholder Engagement Webinar:
The scope of this webinar is to introduce IOM's Missing Migrant Project (MMP) to relevant stakeholders within the Southern Africa region, as well as to present the challenges of collecting data on dead and missing migrants and the relative vulnerabilities within the context of Southern Africa. The webinar aims to ensure coordination amongst the relevant stakeholders and identify next steps to improve data on migrant deaths and disappearances in the region.
The objective of this webinar is to improve coordination between IOM, relevant government authorities and external partners working on matters relevant to missing migrants, to contribute to a more effective implementation of the IOM Missing Migrant Project in the Southern Africa Region – aimed at supporting governments with the collection and analysis of data regarding this phenomenon. More specifically, this workshop will strive to achieve the following objectives:
Increase the knowledge of participants on missing migrants and related concepts in Southern Africa.
Enhance participants' understanding of IOM's Missing Migrant Project and the related pilot research project on the families of missing migrants.
Identify potential avenues for strengthened coordination with both government and non-government stakeholders from targeted countries to work towards a better understanding of migrant deaths and disappearances in the region.
Outputs: mapping of initial thoughts, knowledge and ideas concerning the next steps of the Missing Migrant Project.
Results: Identification of support needs concerning data collection and analysis on missing migrant matters; establishment of network of actors working on missing migrants in the Southern Africa region.
Participants
The Missing Migrant Project stakeholder engagement webinar will be attended by government stakeholder and external partners including from the following: relevant governmental Ministries such as Immigration Departments, Ministry of Labour and Social Security, Ministry of Social Welfare Gender and Children's Affairs, Ministry of Internal Affairs, Ministry of Foreign Affairs and Regional Integration; International Committee of the Red Cross and Institute of Security Studies (ISS), Academic Institutions, Migrant Organizations, Departments and Agencies; the Police.
Resource Persons
The resource persons will be IOM's staff and focal persons in charge of the Missing Migrant Project in the IOM Regional Office for Southern Africa based in Pretoria, as well as from IOM Country Offices in Malawi, Mozambique, South Africa, Zambia, and Zimbabwe, and the Missing Migrants Project Global Team (Frank Laczko and Kate Dearden) from IOM GMDAC in Berlin, Germany.
Webinar materials
Webinar materials will be prepared by IOM staff and shared (emailed) with the participants ahead of the webinar.
AGENDA
4 December 2020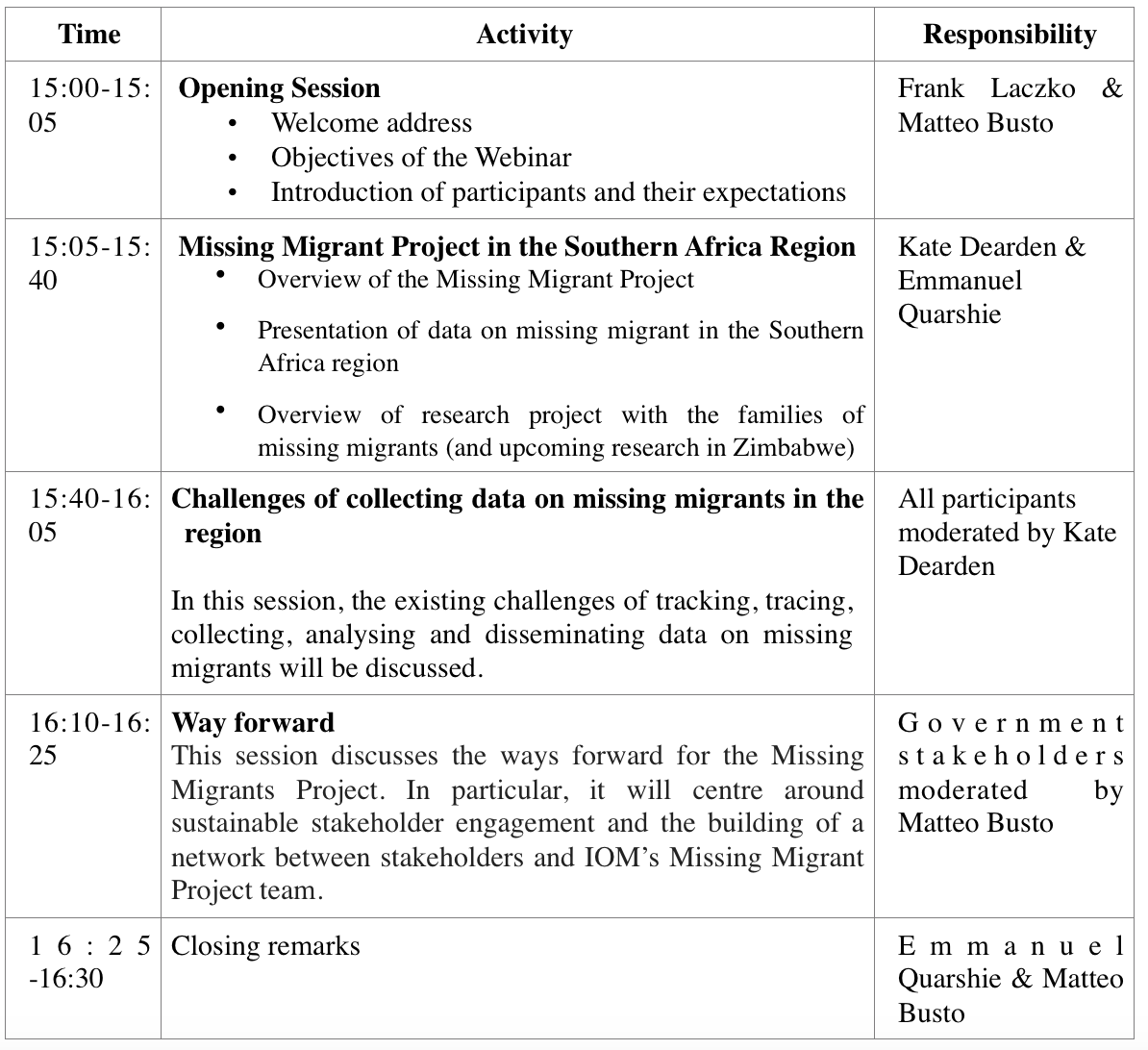 PROPOSED LIST OF PARTICIPANTS FOR THE STAKEHOLDER ENGAGEMENT WEBINAR IN THE SOUTHERN AFRICA REGION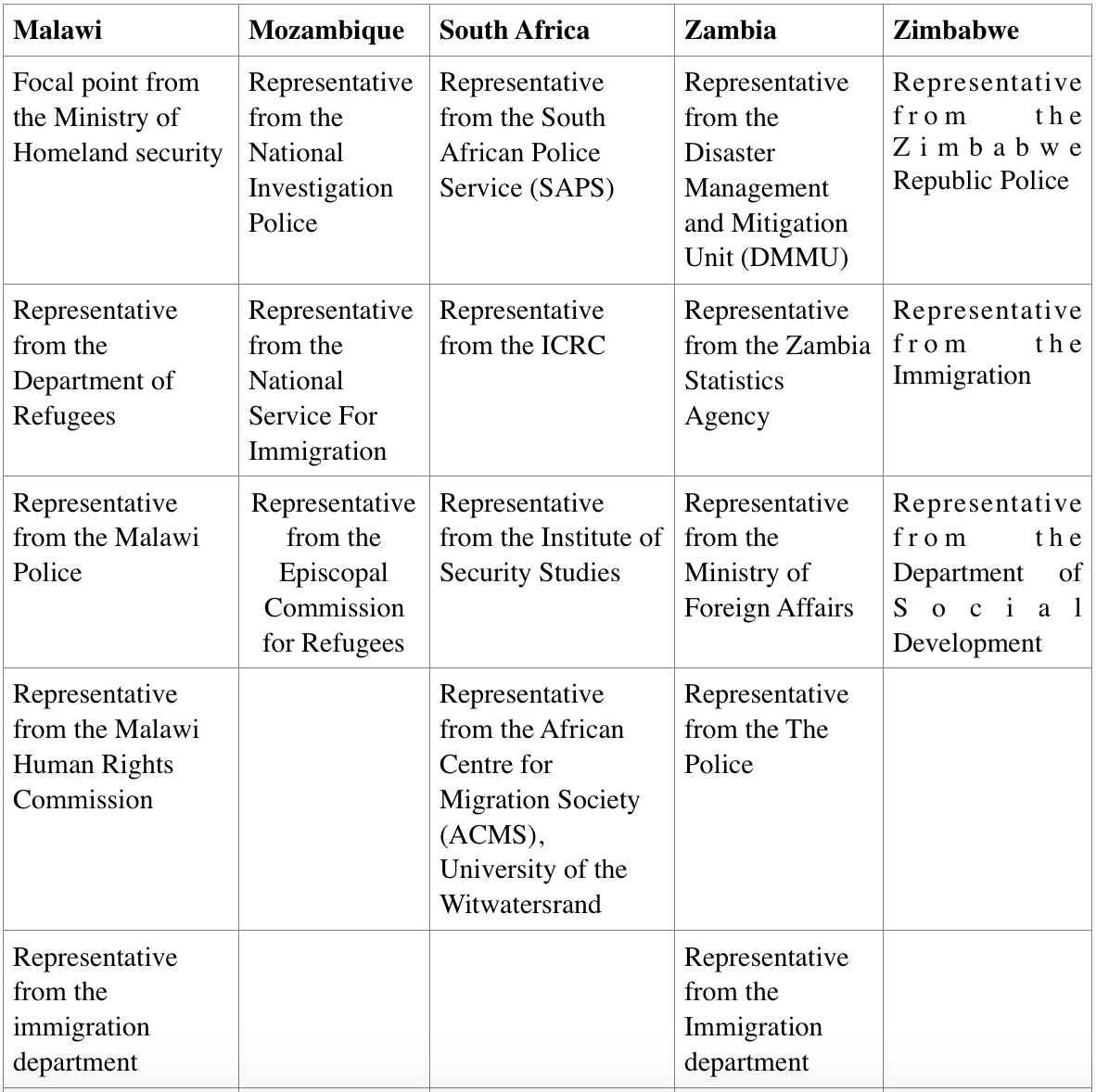 ---
Categories:
---
Tags: