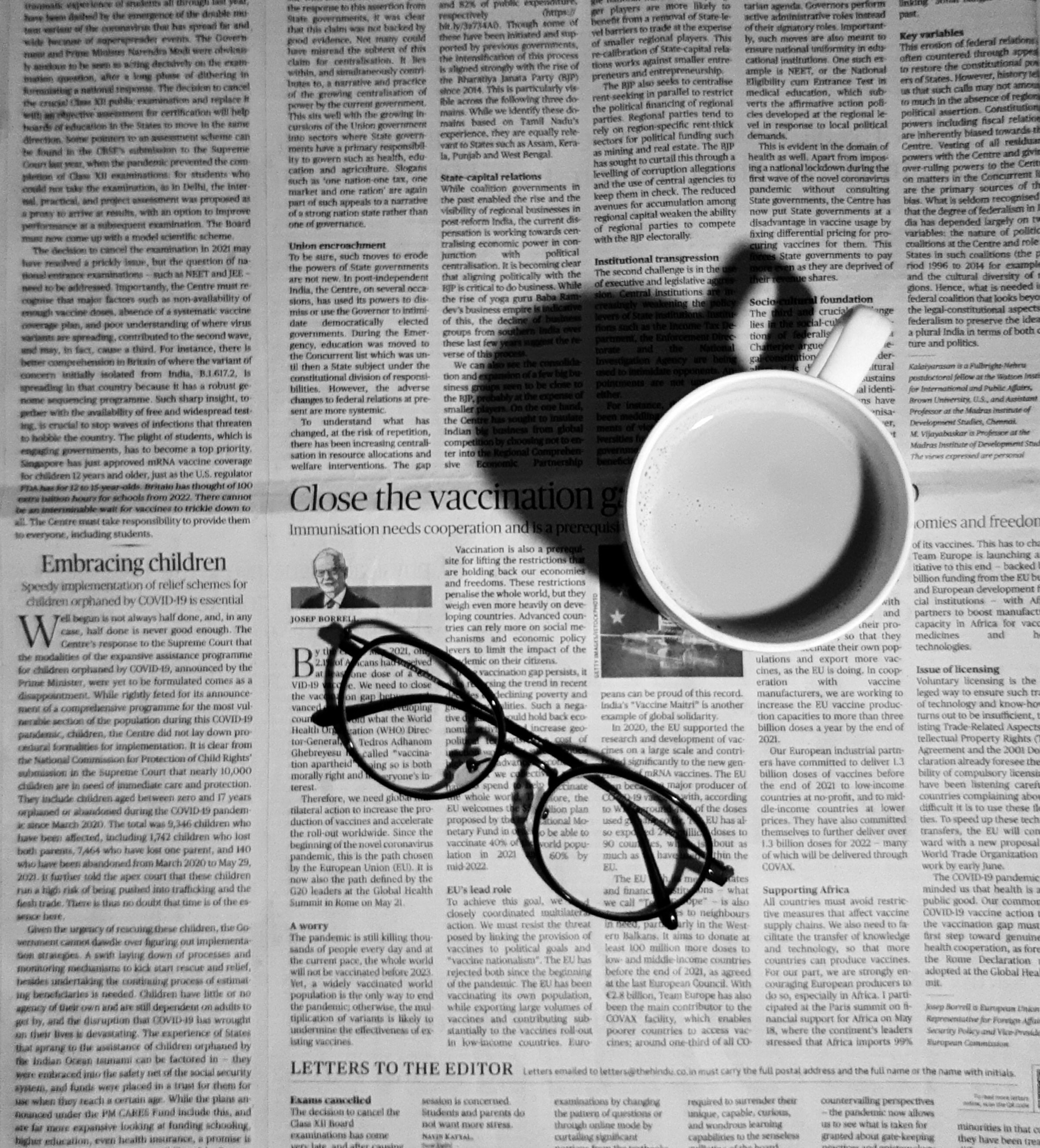 December 2021 - Press Review
NATIONAL COVERAGE
SA's 'beautiful laws' fail LGBTQ+ migrants fleeing persecution
News24 - 16/12/21
South Africa, that has some of the world's most progressive LGBTQ+ laws, attracts LGBTQ+ migrants from the continent and beyond escaping prosecution and homophobia. In 1996 South Africa was the first country to ban discrimination on the grounds of sexual orientation and in 2006 it became the only nation to legalise same-sex marriage in Africa. Pallo Mandela, an asylum seeker coming from Kenya, fled to South Africa after being discovered with a man and arrested for that from the police. Gay sex is banned in Kenya. Mandela said that South Africa was the only safe space where he knew the government accommodated queer people. Although on paper rights are protected, Mandela told that he has been harrassed, judged, robbed, insulted and threatened of death in South Africa. He added: "Imagine dealing with xenophobia and insecurities about your sexuality at the same time."
Read the full article at:
https://www.news24.com/news24/southafrica/news/sas-beautiful-laws-fail-lgbtq-migrants-fleeing-persecution-20211216
Southern Africa: Govt Pressuring South Africa to Reverse Permit Suspension
All Africa - 21/12/21
Emmerson Mnangagwa, the current president of Zimbabwe, is fighting for Zimbabweans to be allowed to remain domiciled in South Africa despite the South African government's response of not renewing the temporary work permits granted so that hundreds of thousands of people will be deported from South Africa when these permits expire. The ZEPs, Zimbabwean Exemption Permits, were granted to Zimbabweans already in South Africa, but the South African cabinet announced that they will not be renewed when they expire on the agreed date of 31 December 2021, meaning that permit holders will have to leave South Africa. Despite the Zimbabwean government and pressure groups trying to stop this from happening, Home Affairs Minister Aaron Motsoaledi (South Africa's Minister of Home Affairs) is convinced to go ahead with the termination of the exemption permits. But Zimbabwe remains a country with economic problems, political problems and violence, and many people have built their lives and families in South Africa. It is estimated that up to half a million children will be affected by this decision, which will cause them trauma, suffering and unpleasant situations for a child, and is not in line with the South African Constitution which refers to the best interests of the child.
Read the full article at:
https://allafrica.com/stories/202112210599.html
South Africa Rolls Out Covid Vaccines for Undocumented Immigrants
All Africa - 22/12/21
The government, with the help of nonprofit groups, is offering the vaccine to the country's estimated 2 million undocumented with the effort to limit the spread of coronavirus. Until now, many undocumented immigrants could not get vaccinated because they did not have the required identification. People living in South Africa must be registered through an identification number on the Electronic Vaccination Data System to receive a vaccine. This new program of vaccination allows an undocumented person to receive a unique identifier to be vaccinated and tracked for health purposes only. However Dr Bhardwaj, who works with Doctors Without Borders, said, "I think a lot of migrants are afraid of being exposed [and]… then they might become subject to law enforcement... "
Read the full article at:
https://allafrica.com/stories/202112230016.html
South Africa: Minister Aaron Motsoaledi On the Decision of the High Court to Struck From the Roll Urgent Applications By Zimbabwe Exemption Permit Holders for Lack of Urgency
All Africa - 29/12/21
Minister Motsoaledi welcomes the High Court's decision to strike out urgent applications by ZEP holders, Zimbabwe Exemption Permits for lack of urgency. Interest groups (African Amity and other group) related to ZEP holders are sought to make urgent applications to the High Court. The South African Minister of Home Affairs has taken a decision not to renew the permits and to impose a condition of a 12-month grace period where ZEP holders must regularise stay in the country through South African immigration laws in relation to the provisions of the Immigration Act 2022 which gives the Minister the power to make this decision. The interest groups applied to the Court for the granting of permanent residence and the renewal of visas but the Court sided with the Minister, not African Amity or the other group with respect to urgency. The African Amity was struck from the roll while the other interest group led by Bongani Nyathi and others was unsuccessful and the applicants were ordered to pay the costs of the application to the Department of Home Affairs.
Read the full article at:
https://allafrica.com/stories/202112300281.html
REGIONAL COVERAGE
Rebels groups murder scores of Congolese refugees
Caja News Africa - 01/12/2021
Dozens of people have been killed by armed groups attacking displaced people in eastern DRC (the Democratic Republic of Congo). The latest incident was the killing of 26 people in Ituri province. The armed group uses guns, machetes and knives against vulnerable people. In November a group of militiamen attacked Drodro and Tché, another site for displaced people, killing 44 people and destroying more than 2,000 shelters. A week before this incident, an armed group in the town of Mikenge killed six children and a pregnant woman and eight people were injured with machetes and bullets. More than 5.6 million people have been forced to leave their homes in DRC, an increase of 400,000 people compared to 2021. 330,000 are refugees in displacement sites. The United Nations Refugee Agency, UNHCR has expressed its outrage at the killings and has received financial assistance to help affected populations in the DRC.
Read the full article at:
https://www.cajnewsafrica.com/2021/12/01/rebels-groups-murder-scores-of-congolese-refugees/
Cameroon: Act to Save Children Living Precarious Lives in Forgotten and Neglected Conflict
All Africa - 03/12/21
Two out of three schools are closed in the North-West and South-West regions of Cameroon. Tehe area is the epicenter of the ongoing conflict between armed groups and government forces. Political, cultural, and governance issues between the two groups are not settled in negotiations but rather through armed violence against children through threats, harassment, violence, kidnapping and death targeted at teachers and school-going children. The situation has placed an entire generation of Cameronian children at risk of losing lifelong learning opportunities. There's the need to create safe zones or areas established in armed conflict for the protection of civilians through negotiation between warring groups and the collaboration of international forces. Today children are out of school for the fifth year running and the ones who are attending the remaining schools in crowded classes are dressing in disguise to hide from violent armed groups.
Read the full article at:
https://allafrica.com/stories/202112040065.html
Africa: The Bittersweet Reality of Intra-African Migration
All Africa – 17/12/21
Intra-African migration rose from 13.3 million to 25.4 million between 2008 and 2017, according to African Union figures. A 2020 IOM report shows that 80% of Africans said they had no interest in leaving the continent. Migration within and across Africa is high, especially interregional mobility, such as in West Africa, said Rango Marzia of the IOM's Global Migration Data Analysis Centre. She also argues that political instability, conflicts and climate change are important factors which leads to negative perceptions associated with migration in hosting countries. These factors contribute to worsening the manner in which migration is managed in these countries and, as a consequence, the way foreigners are treated in host countries. A Cameronian man in Equatorial Guinea said: "Even if you have all the documents, they will still maltreat you." There is constant harrasment, both from citizens and authorties in Equatorial Guinea, he said. While integration within the ECOWAS zone is still in its infancy, Christian Kobla Kekeli Zilevu, a Ghanaian immigration official said, "We are starting from a point, but I can say categorically that the ECOWAS sub-region is more integrated than previously." Zilevu went on to say that "Ghana is a place where we are very peaceful, very accommodating. But we still work with our laws... that is why at our immigration we say friendship with vigilance".
Read the full article at:
https://allafrica.com/stories/202112180142.html
Congolese refugees in northern Zambia receive cash vouchers
News24 - 20/12/21
The United Nations World Food Programme, WFP has for the first time provided cash assistance to people living in the Mantalapa refugee settlement in Zambia, who will receive cash vouchers for Christmas. The Mantapala Settlement is home to some 18,000 refugees from the Democratic Republic of Congo, DRC. Payment is through the plugPAY service, which promotes financial inclusion and allows people to receive and withdraw cash. WFP sends cash to people and streamlines internal processes. According to UNHCR, the United Nations Refugee Agency, Zambia hosts some 100,000 refugees and asylum seekers, the main refugee camps are: Mantapala, Meheba and Mayukwayukwa. Eighty per cent of the community is from the Democratic Republic of Congo, DRC, 11 per cent from Burundi, 5 per cent from Somalia and 3 per cent from other countries in the region. In Namibia, there has also been an increase in undocumented Angolan arrivals due to malnutrition and drought, who have entered through illegal entry points in search of food, water, medical services and employment. This entry has taken place through the Omusati and Ohangwena regions by Angolans living in the border provinces of Cunene and Huíla. A total of 894 Angolan migrants have been registered in Omusati and Kunene, mostly children, nursing mothers and elderly people. According to the Southern Africa Climate Outlook Forum, SARCOF, the situation in Angola's southern region is likely to worsen as below-normal rainfall is expected.
Read the full article at:
https://www.news24.com/news24/southafrica/news/congolese-refugees-in-northern-zambia-receive-cash-vouchers-20211220
INTERNATIONAL COVERAGE
How Bangladesh is beating the odds on climate disaster deaths
TheNewHumanitarian – 02/12/21
Since Cylone Bhola struck 1970 in Bangladesh causing between 300.000 and 500.000 deaths, cyclone-related deaths decreased by more than a 100 fold. This is despite global warming leading to more frequent extreme events in the country that cause natural disasters. Bangladesh provides a case study of good practices, partly because of technological advances, that are increasingly facing new climate risks. According to the country's Climate Budget Report, more than 7 percent of the national budget was allocated to tackling climate change between 2021 and 2022. The country has now reduced deaths through the implementation of more than 50 weather stations, balloons, and radars. It also receives information from other national and regional meteorological offices. A multi-layered early warning system involving radio announcements, targeted text messages to people who may be affected, television alerts, announcements broadcast over speakers in mosques, and volunteers going door to door has been put into place. Moreover, a Cyclone Preparedness Programme (CPP) has been organised to ensure awarness among people of warnings through volunteers. Furthermore, in 1970 there were only 44 operational cyclone shelters, but, now Bangladesh has more than 14,000 that reduced fatalities by 75 percent between 1990 and 2015. All these instruments have been effective to reduce deaths, but Bangladesh continues to struggle with internal displacement, economic damage, and loss of livelihood. Approximately 4.4 million people were displaced in Bangladesh due to disasters in 2020, according to a report from the Internal Displacement Monitoring Center (IDMC). In Bangladesh, students learn about disasters early in their curriculum. "Our parents did not learn about disasters when they were young, but we do," said Sadhu a 16 year-old student at school in Lakurtala village, "Climate change will bring bigger disasters in the future, but we know we can prepare for them. We are not afraid. "
Read the full article at:
https://www.thenewhumanitarian.org/investigation/2021/12/2/how-Bangladesh-is-beating-the-odds-on-climate-disaster-deaths
Read more about another countries response to the issue here:
Four ways Mozambique is adapting to the climate crisis
TheNewHumanitarian – 01/11/21
https://www.thenewhumanitarian.org/analysis/2021/11/1/four-ways-Mozambique-is-adapting-to-the-climate-crisis
'Telling our own stories': Rohingya lives, through a camera lens
The New Humanitarian - 13/12/2021
The Rohingya were denied an identity in their homeland in Myanmar. Many generations of Rohingya have had to flee persecution in Myanmar and 700,000 people have taken refuge in camps in southern Bangladesh. The Rohingya are using their mobile phones and social media to tell first-hand their stories of life from inside the settlements where they now number nearly one million people. Photographer Mainul Islam says the world does not know what is really happening in the Rohingya camps. They use platforms such as Facebook, Instagram and Twitter as their main tools to reach more people. Yassin Abdumonab, a Rohingya photographer, shows the situations through photos that have been published in media such as CNN, The Guardian, The Telegraph and The New Humanitarian. Many use the photos to show the conditions in the camps, which show the deterioration after confinement during the pandemic. Rohingya photographers tend to be men as they have more freedom to move around the camp, many families have more conservative attitudes towards girls leaving the home or fear for the safety of women in the camps. Kayas a female Rohingya photographer said "Some people ask me why I take photos. My reply to them is that I take photos of our refugee lives to tell the world how we are surviving here." Abdumonab reflected that in the camps there are many traumatised people and everyone has a personal story and hence it is positive and interesting that these stories are told by the protagonists themselves and that they are not forgotten.
Read the full article at:
https://www.thenewhumanitarian.org/feature/2021/12/13/Rohingya-lives-through-a-camera-lens
Mexico says refugee requests tripled in 2021
Aljazeera – 21/12/21
Mexico has received 123,187 applications for refugee status in 2021, up from 41,230 last year, Mexican Foreign Minister Marcelo Ebrard said. He further explained that the country has a relatively simple asylum process and approves more than 95 percent of applications. This significant influx of people is due to the attempt to reach the US. Migrants often face danger during the trip, as happened to the 56 people who died last December in a road accident while hidden in a truck that departed from Guatemala headed to the US border. Most of the asylum seekers arriving to Mexico come from the so-called "Northern Triangle countries" of Guatemala, Honduras and El Salvador. 2021 has also seen an increase of asylum seekers from Haiti. Their number increased more than seven-fold between 2020 and 2021, according to Mexico's National Institute of Migration (INM). Most of the migrants remain stuck at the mexican border because of the US border closure policy that allows US officials to immediately turn back most people that arrive at the border without processing their asylum claims. The "Remain in Mexico" policy forces asylum seekers to wait in Mexico for their US immigration hearings. As a result, more than 190,000 undocumented foreigners were detected in Mexico between January and September, according to authorities. Some 74,300 were deported.
Read the full article at:
https://www.aljazeera.com/news/2021/12/21/refugee-requests-in-mexico-triple-in-2021
Read more about this issue here:
'Remain in Mexico' policy exposes migrants to horrific abuse
Aljazeera – 10/12/21
https://www.aljazeera.com/program/upfront/2021/12/10/remain-in-mexico-policy-exposes-migrants-to-horrific-abuse
At least 30 dead in migration boat accidents in Greece
News 24 - 25/12/2021
A series of migrant boat accidents have killed at least 30 people in just a few days. Coastguards found 16 bodies, including three women and a baby, and rescued 63 people when a boat capsized and sank near the island of Paros. The boat was bound for Italy, there were about 80 people on board. Smugglers operating the boats from Turkey send the migrants on more dangerous routes. Coastguards, divers, patrol boats, etc. continue to search for more people. They also recovered 11 bodies from another boat on an islet north of the Greek island of Antikythera. According to the coastguard, two of the rescued migrants are suspected of being smugglers and have been arrested. On the island of Folegandros, a boat with migrants capsized, killing three people. Thirteen people were rescued but many are still missing. According to the UN refugee agency the Folegandros accident is one of the worst this year as many people are still missing. "This shipwreck is a painful reminder that people continue to embark on dangerous journeys in search of safety," said Adriano Silvestri, UNHCR's deputy representative in Greece. According to UNHCR, more than 2,500 people have died or gone missing from January to November 2021 trying to reach Europe. The smugglers' activity is increasingly criminal, the boats do not have life jackets or even meet basic safety standards.
Read the full article at:
https://www.news24.com/news24/world/news/at-least-30-dead-in-migrant-boat-accidents-in-greece-20211225
---
Categories:
---
Tags: