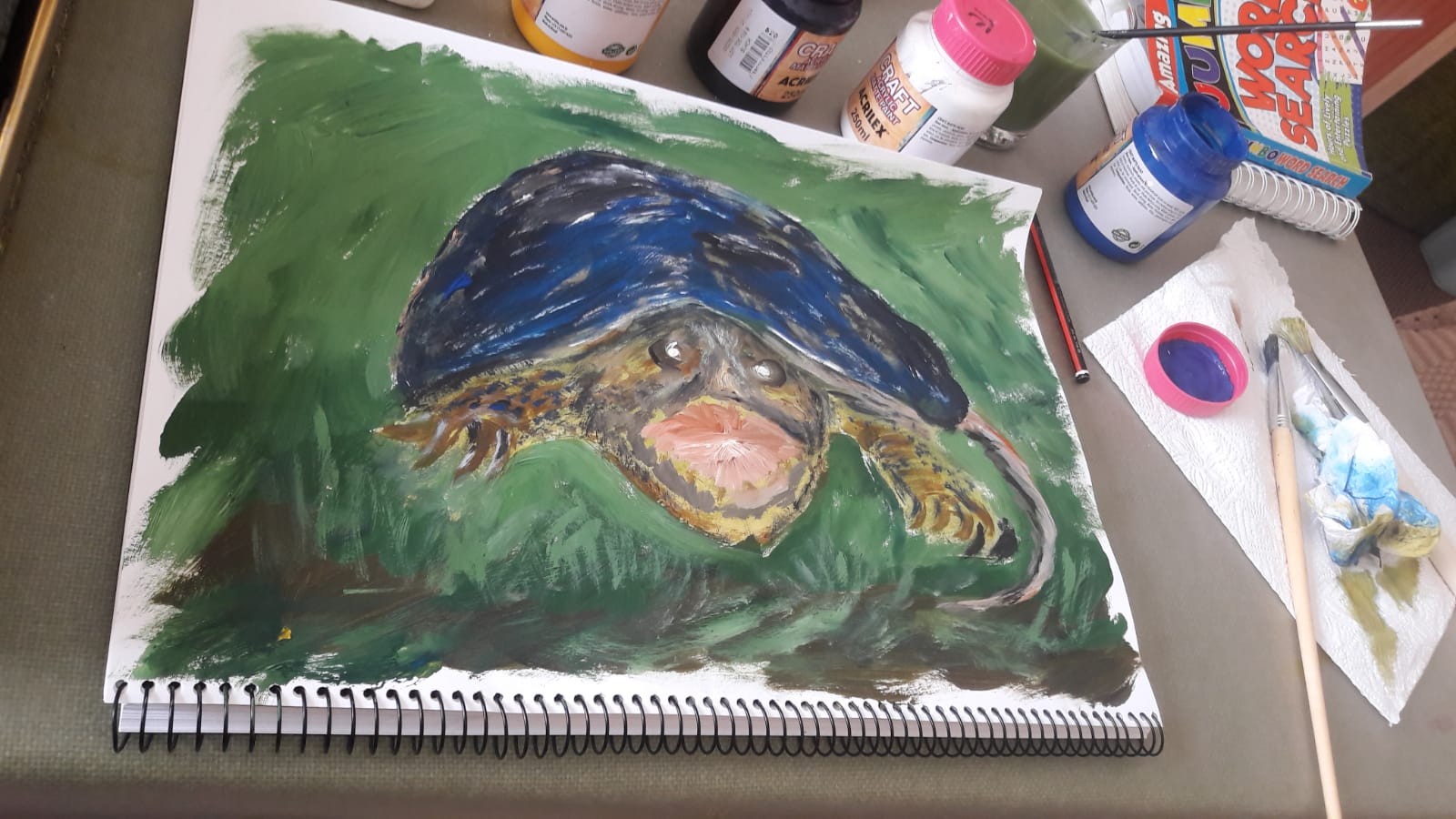 Paddling aganist the wind: Climate refugees
When Robin Wall Kimmerer spoke recently at the New York Times Events about Paddling against the Wind, she was speaking of climate refugees: she was speaking of snapping turtles laying their leathery eggs on a volleyball court because the familiar nesting grounds had been flooded. When snapping turtles seem to speak of perilous changes in the world that threaten their life cycle, it is awesome, poetic – even cute, to take notice. We stop, we listen to the turtle teachers, and we think about our exhausted planet. Snapping turtles desperately laying eggs in the wrong places become Instagram-able. We love these beautiful, leathery creatures. We are righteously outraged by their plight.
When I asked my artistic mother to draw a turtle for this blog, I expected an idealised specimen drawing because my mother paints landscapes more perfectly than either you or I could ever. Almost prophetically, she produced a strangely anthropomorphic picture. Her turtle drawing was a person gaping at me from the paper. Her turtle was a refugee. My mother's drawing was illustrating my uneasy thoughts that snapping turtles are not the only climate refugees.
How many bedraggled and overloaded boats of refugees have recently tried to reach safe shores, much like egg-laden turtles? How many in the past week, in this week have made it to the wrong places where they spill out the desperate and the trafficked because … there is nowhere else to go? When both the motherland and the hinterland have become inhospitable, humanity itself needs to pay attention.
What boats and turtles will next week bring to the shores? We are all becoming refugees, we are all drowning because some of us are drowning. We are all snapping turtles.
Learn more from his video: https://www.youtube.com/watch?v=GhIoVJHycvk
Blog by Rhoda van Schalkwyk
---
Categories:
---
Tags: