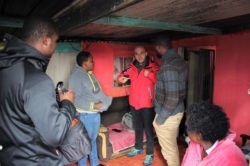 Bridges Beyond Borders project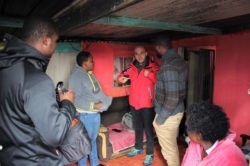 One of the main goals of SIHMA is to influence the minds of the public and to change the predispositions of society with regard to migration and human mobility. This vision came to life in the Bridges Beyond Borders (Ponte di Dialoghi) project, a meeting of innovative technology and interactive education. The Fondazione Centro Studi Emigrazione of Rome (CSER), in collaboration with the Scalabrini Communication Office and the logistic support of SIHMA, have established a multimedia tool for viewers to experience the world through the eyes of a migrant. With the use of OCULUS technology, each viewer can see the journey as if it is their own.
This virtual reality experience allows participants to choose their path as a migrant. Individuals have a 360° view of various sites in which a migrant, refugee, or asylum seeker might encounter. Such sites include a difficult trek through a scorching desert, a cramped voyage on a small fishing boat, or the shack-lined streets of a South African township. These scenes go beyond pictures or videos and are so immersive, one feels as if it is their own perspective. You can practically feel the hot sun beating down on you, the ocean spray and wind hitting your face, or the embrace of a family member greeting you after your long journey. Each experience was filmed using a 360° camera attached to a head piece worn by actors. These actors are migrants themselves and were recruited through the Scalabrini network.
SIHMA and the CSER crew filmed in various locations around the Cape Town area to contribute to the scenes used in Bridges Beyond Borders. These locations included Khayelitsha, a local township; the Atlantis dunes; Hout Bay, a small fishing village; and the agricultural town of Caledon. Additionally, the CSER crew conducted interviews with migrants at the Scalabrini Centre to allow participants to hear stories of real-life journeys.
The Bridges Beyond Borders experience will first be brought to around 150 schools in Italy within four major areas – Milan, Rome, Vicenza, and Foggia. Students' ages range from about 12 to 15 years old. After viewers engage in this immersive adventure, they have the chance to vocalize their reactions and reflect on what they have learned through a debriefing session with the educator or implementor. This learning experience has the ability to teach the concept of migration in a new way, creating a stronger link between the learner and the material.
The project intends to promote sensitization towards human mobility and to break down common stereotypes of migrants. The goal for this project is to spread beyond schools and reach a greater population in order to foster a positive outlook and further understanding of migration within society.
Emma Dionne
---
Categories:
---
Tags: