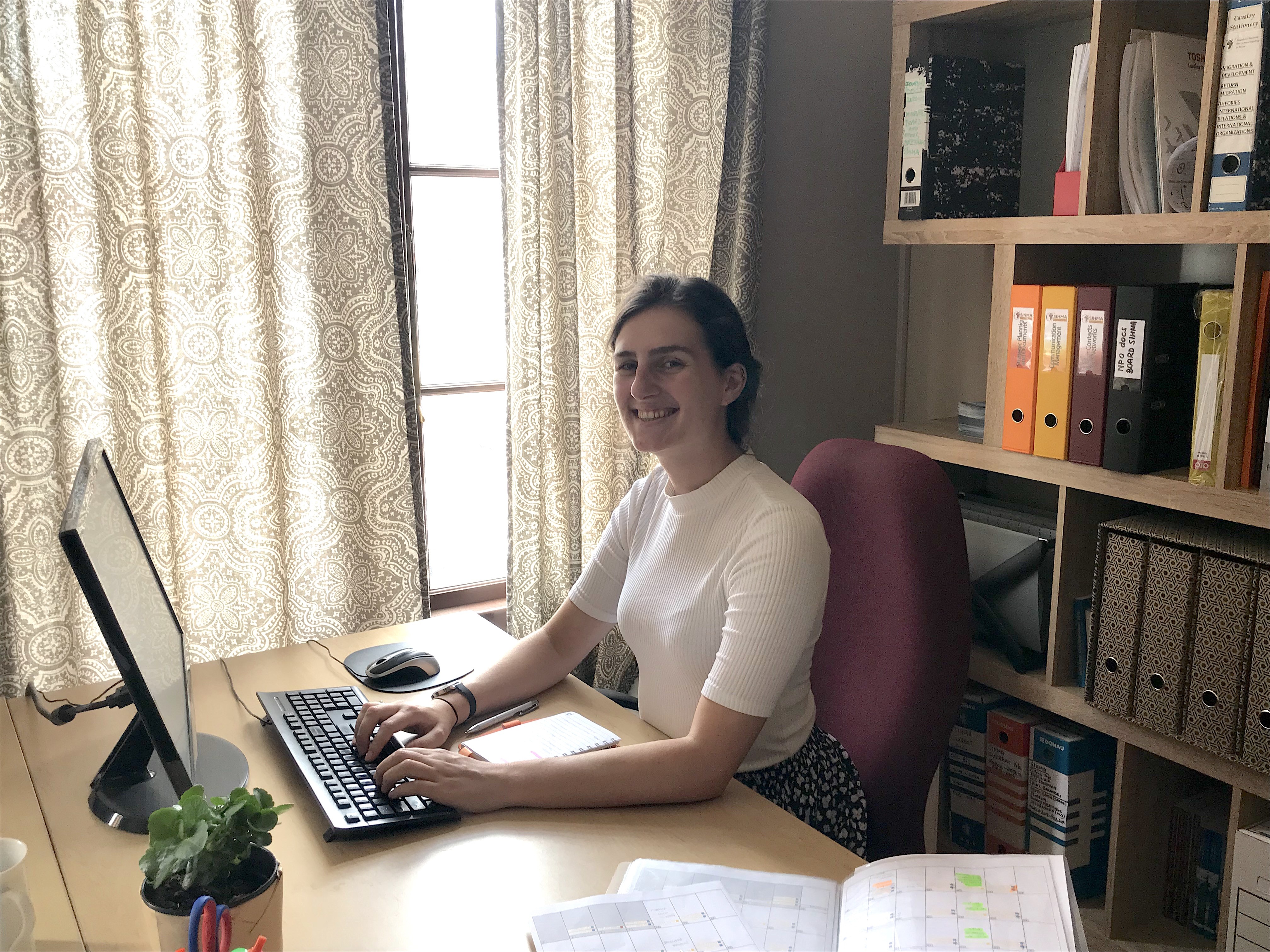 Lola's experience as SIHMA's intern
My name is Lola, I'm 23 years old and I come from the Netherlands. I have been a research intern at SIHMA for five months, from October 2019 to March 2020. Before I came to SIHMA, I had just graduated with two master's degrees in International Development and Anthropology. I decided that I wanted to gain some more hands-on experience in research – preferably abroad – before I would find a full-time job in the Netherlands. Since I had some experience with researching migration and I wanted to gain a different perspective on the matter, SIHMA was the perfect place for me to go.
SIHMA's office is located in the centre of Cape Town, and right around the corner from where I lived. The office – where me, my supervisor Father Filippo, and two other colleagues James and Debby worked – has a relaxed atmosphere. Even though I almost always worked at my desk on the computer, I had a variety of different tasks. This way, I got insight not only in the research aspect of the institution, but also in how a study centre like SIHMA operates and how its mission is implemented. My tasks included working on the Atlas of Migration, which is an online platform where an overview of the migration patterns and policies of all the African countries can be found. Furthermore, I worked on an article about the differences between refugee camps and refugee formal settlements, which was based on Father Filippo's visit to Uganda and South Sudan. Lastly, I worked a lot together with Debby on SIHMA's social media platforms and helped out with communications. Always being busy with different tasks was interesting and allowed me to learn various new skills.
SIHMA is located on the top floor of Scalabrini Centre, an organization that helps migrants with all kinds of services, such as English classes, employment access opportunities and legal help. It was very interesting for me to work in such a building, in which migrants and refugees constantly walk in and out. It gives that much more perspective to not only research migration, but to also work with migrants from time to time. At certain points, I worked with the English school by helping out with registration or with certain 'fun' events that they organized. It was a very rewarding experience to connect with them.
The things that I have experienced and learned at SIHMA are very valuable to me. Not only did I gain professional experience within the NGO and research sector – in which I wish to further my career – but I also gained an interesting perspective on the phenomenon of migration. In Europe, there is a very specific narrative on migration and it is a major topic of discussion and debate. I was intrigued to see how migration is dealt with on the African continent, and am glad to have gained a ground-up perspective of the migrants' experience. After having worked at SIHMA, I hope to continue the work to promote the rights and dignity of migrants and refugees all over the world.
Lola Verkuil
---
Categories:
---
Tags: