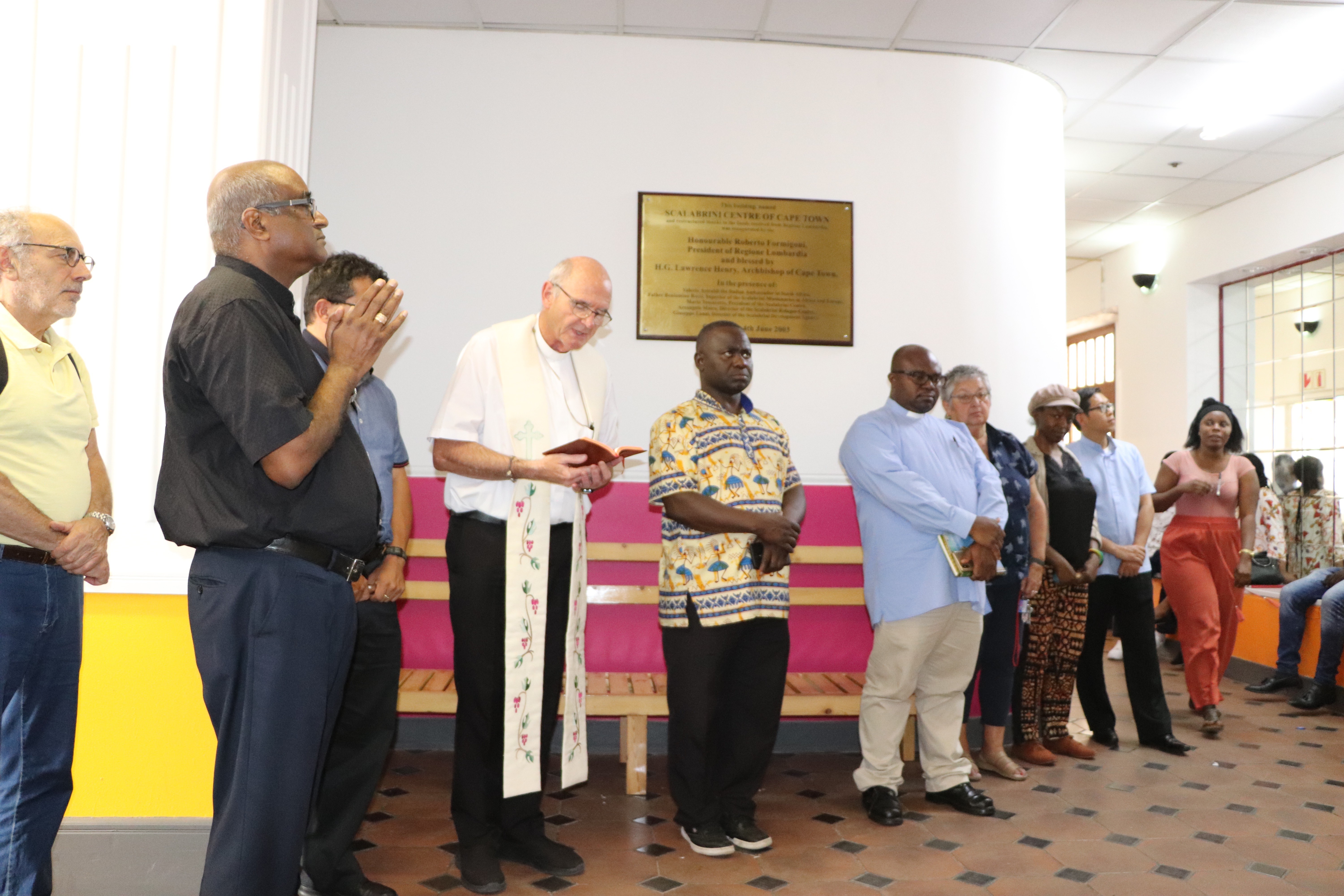 Archbishop visit at Scalabrini Centre and SIHMA premises
Our Scalabrini was opened in January 2020 after new freshly restoration. In the occasion of restarting all the activities of 2020 and the end of the all restorations, the Archbishop of Cape Town Steven Brislin and his Auxuliary Sylvester David visited our premises on the 25th of February 2020.
In this particular day the Archbishop came to Scalabrini Centre (SCCT) to attend the important meeting with all the ethnic and linguistic chaplains. The meeting regarded the new regulations to the Refugee Amendment Act of 2017, that were enforced on January 1st,2020. The advocacy department of Scalabrini Centre gave a presentation of the important changes to the legislation that are now being implemented and an overview of the cases that Scalabrini Centre deals with. An important update for the Chaplains who accompany and assist migrants within their parishes every day.
At the end of the meeting, space was given to Archbishop Brislin's visit to the various sections of Scalabrini Centre, and the inauguration of the building and the various services to migrants. Bishops Brisiln and David blessed of our newly restored entry of the building with the graffiti that symbolizes the values ​​of the Scalabrinian Congregation and points of reference for the staff members of SCCT and the Scalabrinian Institute for Human Mobility in Africa,SIHMA.
The graffiti was done by a young South African artist, Jared, who represented the essence of welcoming people: an African mother holding her baby, the brightly colored fabric wrapped on her head, typical of African culture, that speaks of the colorful journey that each individual undertakes in its own life, and symbolizes the road traveled by the migrant and road ahead to come. On the mother's arm it is written 'learn dignity': the respect for human dignity is one of the core value ​​of the services offered to migrants and refugees by the SCCT and by SIHMA. The graffiti also brings up the four actions proclaimed by Pope Francis in His message on the 2018 Migrants and Refugees' World Day: "Welcome, protect, promote and integrate". In this message we find the themes of welcome and protection of migrants and unaccompanied minors and the opportunity represented by intercultural enrichment and integration.
For the Archbishop and the Diocese of Cape Town, the work of the Scalabrinian fathers in the various ethnic and linguistic chaplains and the presence of SCCT and SIHMA are of a fundamental importance for the assistance of migrants, and research and training activities for pastoral and lay workers on the field.
---
Categories:
---
Tags: