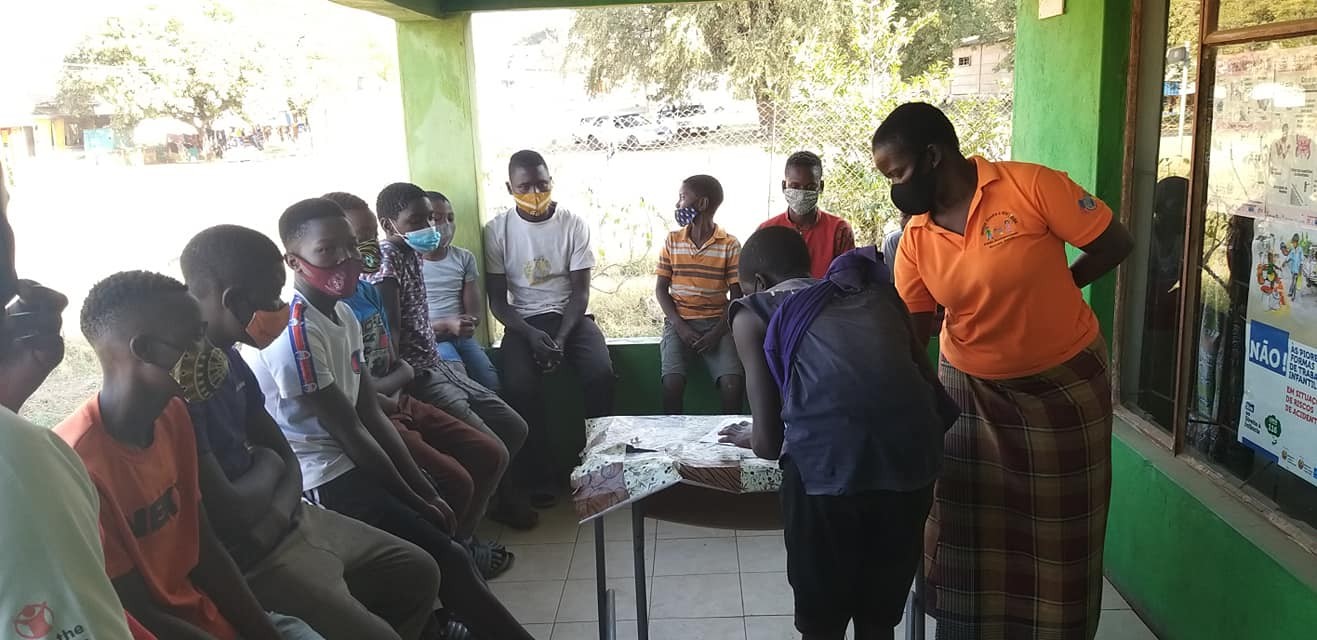 Centering the stories from a border refuge - A case study of a service centre in a border town to understand the response to children involved in irregular migration, smuggling and trafficking across the South Africa-Mozambique border
---
Background
Previous studies at the South Africa/Mozambique and Zimbabwe/Mozambique border indicate that irregular movement of young people across borders is common and motivated mostly by the search for employment and livelihood opportunities.[1] Given the lack of access to documentation and highly securitized official points of entry we know from this previous research that young people and their relatives in both countries employ quite widely shared and sophisticated strategies for unofficial border crossing. Some of these strategies are designed to protect children but others make them more vulnerable to exploitation and even violence including trafficking.[2]
Research also suggests that informal and formal institutions and social networks in border towns such as Ressano Garcia (on the Mozambican side of the border) and Musina (on the South African side of the Zimbabwe/South Africa border) play a vital role in both protection but also the exploitation of children.[3] There is evidence too that many young people crossing borders informally use border towns as a stop-off point to make some money for further travel across the border or to major destination cities like Johannesburg, as a place to access illegal crossing support and sometimes even as a place to stay to live and work in the informal economy associated with such border towns.[4]
Border towns are therefore a rich source of information about issues related to informal movement across borders including smuggling and trafficking. They also can provide insights to forms of protection, vulnerability and the resilience strategies of young people. This information should play a key role in the discourse around the irregular movement of children across borders, which to date has focused primarily on the issue of trafficking with little understanding of the complexity behind irregular movement. In particular, the fact that irregular migration is often chosen and part of historically-created informal strategies for 'crossing the border' means that despite interventions to secure borders and prevent movement children will keep on moving – and will keep on needing support to avoid risks including trafficking.[5] Therefore where a broader discourse is needed on this context there is also need for more in-depth understanding of how to support and protect young people who either pass through or remain for some time in border towns as they move – building on the experiences of those working on the ground.
Aim of this study
This proposal sets out to redress this gap through a small ethnographic study in Ressano Garcia based at the Irmãs Missionárias de São Carlos Borromeo, Scalabrinianas where the sisters began to work with migrant children as early as 2011.
Based on previous interactions between the sisters and the researchers it is clear that the sisters have a deep contextual understanding of the realities of irregular movement young people who live within and move through the town. Based on their observation of the realities of young people in the town sisters have set up a protection service and resource centre which has been identified as an exemplar of appropriate service provision for young people in a border town.[6] An example of its recognition in the 'children on the move' sector is that the centre has been funded by the Save the Children Child Protection Fund for a number of years.
To date there is no in-depth exploration and documentation of the work they do and their expertise in understanding the protection issues and vulnerabilities of irregular movement across borders by young people. This study which we have named, "Stories from a border refuge" seeks to redress this gap and provide a useful insight into protection of children in a border town and thus also contribute to a broader understanding of the prevention of human trafficking.
Our hope is that a close study of the context and the learning the sister's have gained will contribute to the emerging global understanding that protection and support of 'youth on the move' must include services in border towns and locate trafficking in relation to other forms of movement. The protection issues faced by children in Ressano Garcia are not dissimilar from those faced by children in border towns in Latin America, the Middle East and other parts of Africa, with recognition that the contexts are different.
Research approach and methodology
The case study will use a 'light' or 'rapid' ethnographic approach through participant observation and subsequent fieldnotes of the activities of the protection services and resource centre services offered by the sisters and a series of in-depth interviews with the Scalabrini sisters and staff. The interviews will focus on:
1. the context of the work – what the sisters and staff have learned over the years about the irregular movement of youth across the border and their lives within the town
2. the life of the protection and resource centre, how it has developed in response to the realities and where the gaps currently exist in terms of support.
The study will be guided by a focus on the following key issues and accompanying questions such as:
1. Realities of children in the town
- Why do young people migrate to Ressano Garcia from elsewhere and how do they end up staying in Ressano Garcia?
- Who are the children (if you are to generalise) – who comes, who stays, who leaves etc?
- For those who move on/plan to move on a cross into South Africa what motivates their plans and has this changed over the past number of years?
- How do young people cross the border and examples of cases?
- Who are the key stakeholders (state and non-state) interacting with young people as they move?
2. Irregular movement across the border
- To what extent is human smuggling and/or human trafficking an issue?
- How do you understand/define human trafficking as separate to smuggling and other forms of irregular migration at the Mozambican-SA border?
- Who are the key players involved (i.e. who makes it happen/who benefits?)
- Do you have evidence of trafficking and what data exists?
3. Life of the centre
- How does the centre work and how this has developed over the years in response to the context of migration?
- A life story of the centre – structured in a way that others could replicate it. The key things that you think contributed to its success? The role of 'observing the reality' first?
- What services are offered, what support is given and what the key challenges are?
4. Strengthening support
- Is it helpful (in terms of providing a clearer picture of realities and responding to needs of young people) to focus on trafficking rather than other kinds of movement and why?
- How could the services you provide be strengthened/what challenges can be addressed and how?
- Should and could these services be replicated?
- If you had access to funding and could improve the protection of children at the border what would you do? What four recommendations could you give for this?
5. The story of the border
If you were to tell the "story of the border" what are the three key issues you would focus on and why?
Interviews will be held between April and May and will be semi-structured. They will be conducted by Fr Edoardo and will be held in Portugese and recorded. They will then be transcribed and translated into English.
No of interviews will be between 10-12.
Workplan
The methodology will be qualitative and based on fieldnotes and interviews.
Time period: May-September (5 months)
Outcomes
1. Report, 'The story of a border refuge', it's context and contribution to protection of children and young people as well as the key factors behind its establishment and impact. The report will include recommendations around how such a service centre in a border town can prevent trafficking and increase protection of young people and details about how to set up similar responses in other border towns. We will also include some suggestions for future research.
2. A short 'brief' (two-pager) documenting key issues and findings for use in advocacy with donors, INGOs and government officials.
---
---
Researchers & Consultants
Rebecca Walker
Rebecca is a postdoctoral fellow at the African Centre for Migration & Society (ACMS), The University of the Witwatersrand where she works on issues relating to gender, migration and, health. She has a PhD in Social Anthropology from the University of Edinburgh and a background in research on gender-based violence, women's activism and human rights. In South Africa she has taught Social Anthropology at undergraduate level and Research Methods at a postgrad level. She has led and been involved in a number of research projects and consultancies covering topics dealing with migration-related issues including human trafficking, sex work, children on the move and also, gender, migration and health policy. Much of her recent work has engaged with arts-based methods. She has worked both independently and collaboratively on research projects, consultancy positions and has published widely in a variety of spaces.
Glynis Clacherty
Glynys worked for the last 25 years as a research consultant specialising in participatory, qualitative research with women and children. This work has focussed on vulnerable women and children in multiple contexts such as child carers, children living with HIV and AIDS, ECD, children and violence, migrant children and working children. I have worked all over southern, eastern and central Africa for a wide range of NGOs such as UNHCR, UNICEF, CARE International, Save the Children, PLAN International and Soul City. She has a particular interest in creative, participatory research methodology that allows the lived of the most vulnerable to be seen. Her work is always theoretically based and over the years of reading and research she has developed a deep understanding of child development in a context of vulnerability. She is also skilled in careful ethnographic fieldwork that slowly builds a relationship with the research participants through the use of the visual and performative arts and often translates her research into accessible advocacy material in the form of books, case studies and articles (i.d. "The Suitcase Stories", 2005). At present she works as a consultant, with an affiliation at the African Centre for Migration and Society at Wits University.
Fr Eduardo Gabriel
Eduardo is a Missionary of St Charles. He was born in Piracicaba, in São Paulo province, Brazil. In 2002 he completed his Undergraduate Degree in Social Science at the Universidade Federal de São Carlos, UFSCAR, in Brasil. In 2005 he got his master's degree in Social Sciences, at the Universidade Federal de São Carlos, UFSCAR, (Brasil) and in 2010 he finished his Ph.D. in Sociology at the Universidade de São Paulo, USP, Brasil, with a concurrent period at Instituto Universitário de Lisboa (ISCTE) and the Institute of Social Sciences (ICS), in Lisbon, Portugal. He has also been studying for a number of years in the Scalabrinian Mission in Manila, Philippines. He is based in Johannesburg, where he coordinates activities and projects at SIHMA Office.
Sr Carla Frey
Carla is a Scalabrinian sister who worked for many years in Mozambique, at the border with South Africa
Fr Filippo Ferraro
Filippo is a Missionary of St.Charles. Born in Italy, he completed his Bachelor Degree at the Theological Institute of Northern Italy (Milan) and obtained a Diploma in Pastoral Theology of Migration from SIMI (Scalabrini International Migration Institute - Pontifical Urban University in Rome). Since 2017 he is the Executive Director of SIHMA at the Cape Town Office and the Coordinator of social projects of the Scalabrinian Congregation in Africa.
---
Partners & Stakeholders
Missionary Sisters of St. Charles Borromeo Scalabrinians in Ressano Garcia (Mozambique)
---
Bibliography & References
ACERWC, 2018. Mapping Children on the Move within Africa. African Committee of Experts on the Rights and Welfare of the Child.
Bertrand, S.L., Castrataro, K., 2019. Cross-Border Protection of Children on the Move in East and Southern Africa: A quick reference guide for bilateral coordination. Save the Children Sweden and Save the Children International.
Denov, M., Bryan, C., 2012. Tactical maneuvering and calculated risks: Independent child migrants and the complex terrain of flight. New Directions for Child and Adolescent Development 2012, 13–27. https://doi.org/10.1002/cad.20008
Hillier, L., 2007. Children on the move: Protecting unaccompanied migrant children in South Africa and the region [WWW Document]. Resource Centre. URL https://resourcecentre.savethechildren.net/node/2665/pdf/2665.pdf (accessed 9.9.21).
O'Higgins, A., 2012. Vulnerability and agency: Beyond an irreconcilable dichotomy for social service providers working with young refugees in the UK. New Directions for Child and Adolescent Development 2012, 79–91. https://doi.org/10.1002/cad.20012
Save the Children, 2020a. Girls on the Move Research Series. Save the Children International.
Save the Children, 2020b. Girls on the Move Research Series. Save the Children International.
Save the Children, PLAN WARO, ENDA Jeunesse Action, AMWCY, ILO, Terre des hommes Foundation, IOM, Aide a l'enfance Suede, UNICEF WCARO, 2012. Which protection for children involved in mobility in West Africa.
Shuteriqi, M., 2015. Challenges faced in protecting children on the move. An NGO perspective.
Verdasco, A., 2013. Strengthening Child Protection Systems for Unaccompanied Migrant Children in Mozambique: A case study of the border town of Ressano Garcia, Innocenti (Working Paper No. 2013-13). UNICEF Office of Research.
Walker, R., Mahati, S., Magaya, I., 2020. Child Trafficking in South Africa: Exploring the Myths and Realities. University of Pretoria, The Centre for Child Law.
---
Keywords:
human trafficking, smuggling, vulnerable minors